Sony PS3 sales dwindling this holiday season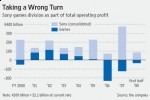 Just as the Playstation 3 starts catching up to its competitors the Nintendo Wii and Microsoft's Xbox 360, it sees a sudden slowdown around the holidays. The early results of this holiday season were not in Sony's favor as they fell 19 percent from last year.
As if that wasn't enough Wii sales doubled this year and the Xbox 360 sales rose 8 percent, according to research firm NPD.  Analysts predict that Playstation 3 sales will either flat line or be even lower than last year's numbers. The huge decline in Playstation 3 sales is really going to take a toll on Sony who is really banking on the videogame division to become a strong part of the company.
Sony is already laying off thousands of staff and closing factories over poor sales of digital cameras and television sets.  If Sony slips behind its rivals they just may loose support from third party developers. Earlier this month Sony said they were happy with the "strong momentum" of the Playstation 3 and focused on the machine's 60% rise in the year-to-date sales.