Sony outs special PS4 Final Fantasy XV Luna Edition, new PS Vita colors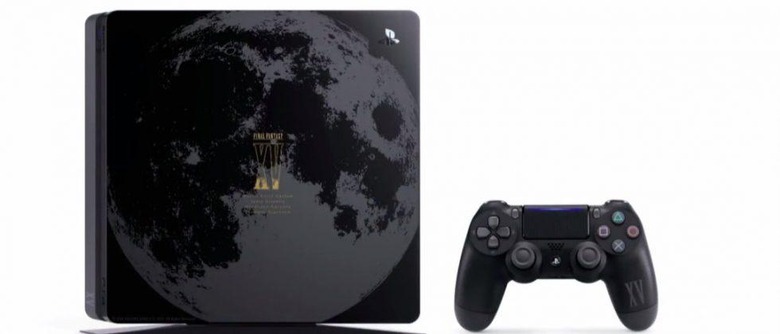 Sony has unveiled some new gaming gear in Japan that fans of the PS4 and the PS Vita portables will appreciate. The special edition PS4 is the PS4 Final Fantasy XV Luna Edition and it will be released in limited quantities on November 29, 2016. The MSRP for the special edition PS4 console will be 39,980 yen.
The special console has a moon design on the packaging and the console itself has the moon printed on the shiny black surface of the game console. The moon will change expression depending on the angle it is viewed from according to Sony. The names of the four main characters in the game are printed on the console in gold lettering.

The special console also ships with a Dualshock 4 wireless controller. If you already have a PS4 to enjoy, Sony is also offering up a pair of new colors for PS Vita portable gamers to enjoy. The new colors include silver and a metallic red. Both colors are WiFi models of the portable in the PCH-2000 series.
Pricing for the new colors will be 18,980 yen and the official launch will be December 1, 2016. Gamers will be able to pre-order the new portable consoles on October 6, 2016 to ensure that theirs is reserved in time for the holidays. With the two new colors available gamers in Japan have four colors to choose from for their new PS Vita portables. Sony also notes that it has sold over a million copies of Minecraft: PS Vita Edition. The silver PS Vita is PCH-2000ZA25 and the metallic red is PCH-2000ZA26.