Sony offers Super Bowl Blu-ray HDTV bundle deal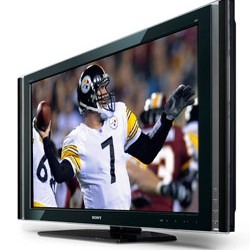 We may receive a commission on purchases made from links.
In a short 9 days, the Steelers and Cardinals will square off Super Bowl XL III at the Tampa bay, an estimated over 90 100 million viewers will be watching in front of their television sets, if wasn't for the game, would be the 3-millions-30-seconds spot Super Bowl ads. Traditionally, hot wings, pizzas and beers are not the only Super Bowl party staples, so are the flat screen TV sets. Last year, the national biggest Super event Super Bowl approximated over 2 millions HDTV sold, boosted over $2 billions sales. To be fair, the Super Bowl has been the Number one driver for HDTV sales, third straight year in a roll.
If you're planning to get a brand new set, or for an upgrade, just walk right any local electronic store, you shouldn't have troubles finding sale campaigning the Super Bowl. If you prefer online shopping, there's still a week left for delivery, and Amazon is having a special Super Bowl deal, save up to $400 on a HDTV/Blu-ray player bundle.
According to Amazon, the offer ends at 11:59 p.m. Pacific time, January 24. A $300 discount will apply when you purchase a Sony's BDP-S550 Blu-ray player with select W-Series BRAVIA HDTVs (KDL-46W4100, KDL-52W4100), or $400 with select XBR and V-Series BRAVIA HDTVs (KDL-46XBR6, KDL-40XBR7, KDL-52V4100). Some of the selections are Sony high-end series XBR sets, so does the Blu-ray player with key features from BD-live, DTS-MA audio decoding and 7.1 channels audio outputs.
More details on the sets are listed at Amazon.