Sony NSZ-GU1 TV Dongle Images And Details Surface Via FCC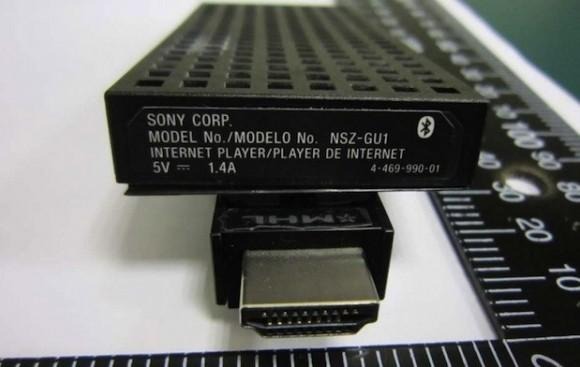 The gang over the FCC has done us a solid and offered up some images and details of the Sony NSZ-GU1 TV dongle. The first details about this device surfaced earlier in the month and the FCC filing has now been updated with more details and pictures. The Sony TV dongle is the first new Google TV hardware seen since Chromecast launched.
The device has a rather strange looking design with a MHL/HDMI plug sticking out of the bottom of the device giving it an odd stepped design. The design may look odd, but I can see a bit of thought in that design where having a smaller stepped HDMI plug could make it easier to connect the NSZ-GU1 to an HDMI port without blocking other ports nearby.
The device can reportedly get the power it needs to operate from the MHL output and a USB connection to a Sony Bravia TV. Other details outlined by the FCC indicate the TV stick will have an integrated IR blaster and uses a low-power chip from Marvell. That chip is specifically a Marvell DE3108 SoC.
The device also has 8 GB of flash storage and 1 GB of RAM. One somewhat disappointing specification indicates the device's resolution will be limited to 720p video output. The Sony NSZ-GU1 is described as being similar to the Chromecast with the addition of Google TV features. There is no indication of when the device will launch or how much it will cost.
SOURCE: Engadget