Sony NSX-46GT1 Images Leak, Showcases First Google HDTV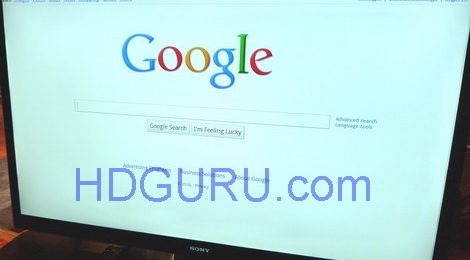 Despite the fact that Sony just announced that they'll be showing off their first Google TV-integrated HDTV on October 12th, that didn't stop the company from bringing the set to Best Buy's holiday preview press event. HD Guru was there, too, and they managed to get some preview time with the HDTV, called the Sony NSX-46GT1, and take some exclusive first-shots.
The NSX-46GT1 has a slim depth, and they believe it features LED edge lighting. The back of the HDTV is white, and there's chrome plating around the stand. Sony's first Google TV had a 46-inch display. Google's demo of the TV was possible thanks to a wireless USB Internet dongle that was connected directly into the back of the HDTV. As we should expect, you can watch your TV the way you want, but if you get bored you'll be able to search Google as much as you want, as well as access the Internet proper thanks to Google's Chrome browser. Interestingly enough, you'll be able to surf the Web from Sony's remote (which wasn't demoed), or from an Android device. That's also including an iPhone.
You'll be able to surf the Web while you watch your favorite TV Show, too. While we're waiting for the Logitech Revue box to show its face somewhere, it looks like the Best Buy preview event didn't have any on hand. So, while we wait for the October 12th press event in New York City, and where we'll get plenty of official information from Sony about the new TV, take a look through the gallery below at all the images.
[via HD Guru]