Sony NEX-F3 and Alpha SLT-A37 official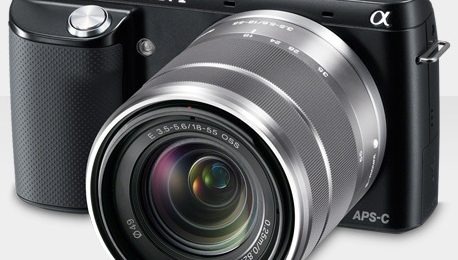 Sony has added two new cameras to its lineup, the NEX-F3 that we saw leaked not too long ago, and an entry level SLT camera, the Alpha SLT-A37. The NEX-F3 will feature the same interchangeable lens system and APS-C sensor as its cousins, but in a more affordable package and with some minor tweaks. The SLT-A37, meanwhile, comes in a bigger chassis but has the option to add a telephoto lens.
The NEX-F3 has many of the features that we saw in the leaks last month: a 16.1 megapixel sensor, 18-55mm lens, 180-degree tilting screen, pop-up flash in the body, and 1080p/24 video recording. The camera is designed to replace the NEC-C3 which will reportedly be phased out in the near future. It's not as fast as the NEX-5N, but otherwise has a similar feature set with a 1/4000 shutter speed and a max ISO of 16,000. A word of warning though: there's no external charger, and you have to send power to the camera over microUSB. A full charge apparently takes around five hours.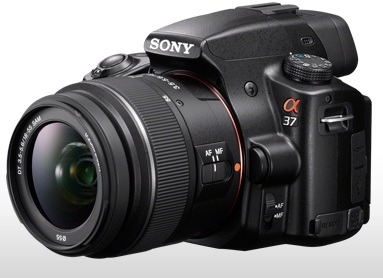 As for the Alpha SLT-A37, it also features a 16.1 megapixel APS-C sensor, 2.7-inch screen, 16,000 ISO, 1080p/60i and 1080p/24 video recording, and comes with a 18-55mm lens. Sony has added a telephoto 18-135mm lens option too. A 15-point autofocus system makes sure that everything is in focus, and the camera features the same Bionz processor found in the Sony Alpha A77.
Both the NEX-F3 and SLT-A37 will cost $599.99. The NEX-F3 will be available in black, white, or silver this June, with a 18-200mm lens coming in July. The SLT-A37 also drops in June, with the price increasing to $799.99 if you want the 18-135mm lens included in the kit.