Sony Music Unlimited makes way to PlayStation Vita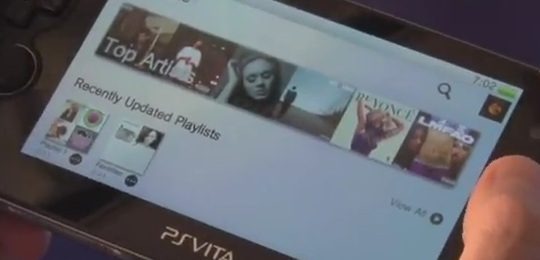 The Sony platform that allows users to stream unlimited music tracks on their PS3 and other devices has now made its way to the PlayStation Vita. The app has two tiers of service – one for users who just want to listen to an "Internet radio" stream of music and a premium tier that lets users search for and download specific songs. It's kind of like Pandora, but with a hint of iTunes.
The expansion of Music Unlimited helps grow the new Sony brand. Although it exists on other devices, Music Unlimited has so far been marketed mainly to PS3 owners. "With the Music Unlimited service on PS Vita, you can use the touch screen for easy browsing, navigation and search. You can even manage your playlists on-the-go, adding tracks from our global library of millions of songs, with automatic synching of all of your playlists and preferences across the growing list of supported devices," Sony said in an official blog post.
The Vita is poised to offer a lot of content that makes it more than just a gaming device. Sony is working on offering a software development kit for app developers to treat it essentially as a smartphone. The Vita already has a Netflix app and social networking functionality, along with Sony's video store within the PlayStation Network. Music Unlimited is a nice addition to help make that push for non-game content.
[via PlayStation Blog]