Sony Multifunctional Light Has A Ridiculous Amount Of Sensors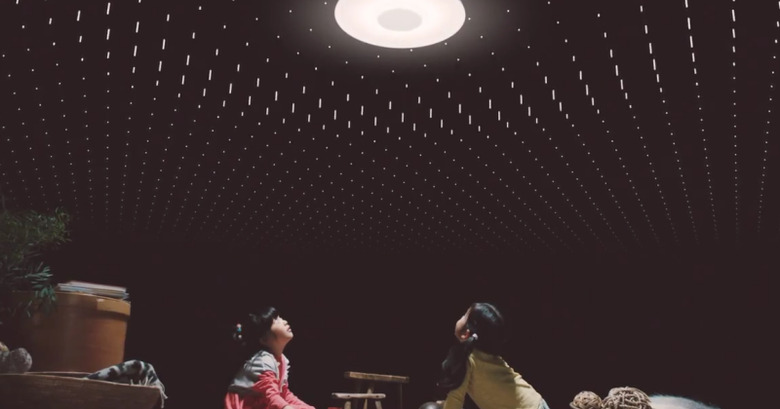 CES 2016 is long over, but Sony seems unfazed and has a yet another product it should have probably shown off at last week's event. Then again, it's launching it in Japan only so far. It is calling it a multifunctional light, though that might be a bit of a misnomer and a disservice. A "smart home hub with light" might actually do it more justice. While this connect lighting does do what most smart bulbs do, it also has a ton sensors that would put your smartphone to shame.
It is actually made of two parts. One is indeed just a simple lighting fixture. At the center of it, literally and figuratively, is the Multifunction Unit that gives it all its features. First, the basics. Like many smart bulbs, it can be controlled via a smartphone to be scheduled for your departure or arrival. It can change its color, depending on the mood you tell it. It can connect to other Wi-Fi connected devices and appliances as well, so that it could act in concert with others. But there's a lot more that it can do, which makes it more than your run of the mill smart light.

For sensors, it has motion, luminance, temperature, and humidity. It has an infrared controller, a speaker, a microphone, and a microSD card slot for some reason. To some extent, it's almost like Amazon's Echo, but without Alexa and hanging from the ceiling. It also has more sensors than Echo as well.
How does that hardware come into play? For one, it can detect when someone's in the room, preferably the owner, and switch on other appliances, like AC and TV at that moment. No need to reach for that remote control. It can also let homeowners communicate with whoever is in the house. Too bad it doesn't have a webcam since it would probably make for a great prank to pull on unsuspecting visitors. It could probably also monitor living conditions inside the room, like temperature and humidity. All of these are relayed to and controlled from a smartphone.
Talented as it may be, this Sony Multifunctional Light is, unfortunately, something you can't get your hands on yet. Unless you live in Japan, that is. Sony has not made known any intention to bring it to other markets, though it is admittedly an interesting, if not overloaded, addition to a smart home.
SOURCE: Sony
VIA: Engadget