Sony MP-CL1A short-throw HD pico projector fits in the palm of your hand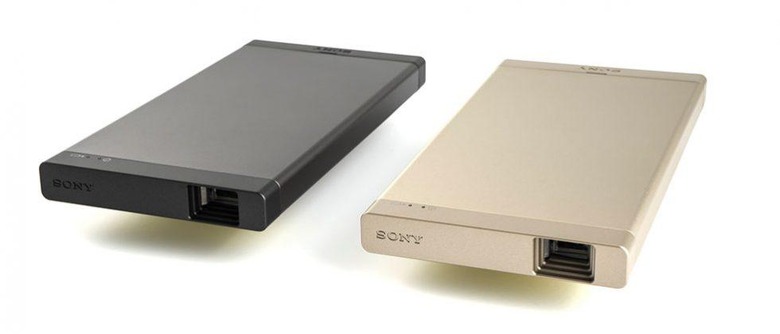 There are a bunch of use scenarios where you want a projector to go with you on the road. The catch is that most projectors are large, bulky, and not easy to take with you. Sony has a new pico projector called the MP-CL1A Mobile Projector that can fit in the palm of your hand and could be carried with you easily in a pocket or bag wherever you need to show video or photos in a size large enough to be seen by a group of people.
The projector comes in gray or gold colors and has Bluetooth connectivity. The lens cover also double as a kickstand allowing you to stand the projector up a bit for a better projecting angle. Sony fits the projector with Laser Beam Scanning (LBS) giving a resolution of 1920 x 720p.
The projector is focus free helping it to be as lightweight as possible at only 7.4 ounces. It has a contrast ratio of 80,000:1, accurate color, and a 16:9 aspect ratio for an ideal viewing experience. The short throw projector is able to thrown an image 120-inches from a distance of 12-feet. A 40-inch viewable image only needs to be 4-feet from the projection surface.
One key detail that Sony is mum on, which is a downfall of many pico projectors, is brightness. Sony only says that the projector is ideal for dark environments. Connectivity features include WiFi, HDMI, and Bluetooth. Power comes from a 3400 mAh internal battery good for two hours of playback per charge. The MP-CL1A mobile projector will launch in October via Amazon for $399.99.
"The MP-CL1A not only builds on the success of Sony's first pico projector, but the company's vast expertise in projection technology," said Viviano Cantu, Vice President, Product Marketing, Sony Americas Media and Energy Group. "With connectivity options that now range from Wi-Fi, standard HDMI and MHL to Bluetooth and audio output for wireless and wired headphones and speakers, we're listening to our users to constantly improve our products and add valuable features. That is also why we are offering additional accessories and options that personalize the projector including the choice of a gray or gold model."