Sony Ivy Bridge Vaio T ultrabook base specs revealed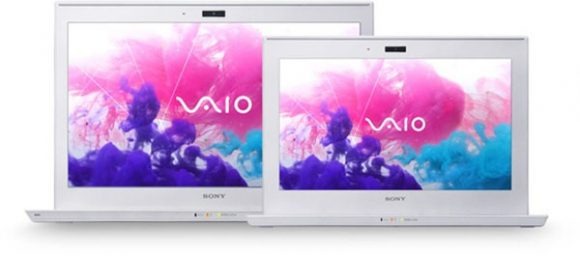 Sony has started accepting pre-orders on a pair of new ultrabooks we talked about in the past, and specs on a new Ivy Bridge version have surfaced as well. Two of these machines are the Vaio T Series 11.6-inch and 13.3-inch machines. The pre-order ultrabooks are available at German retailers. Specs on base versions of the machines are available. The retailers promise two of the ultrabooks will be available to ship within two weeks. The specifications below come from the official Sony German website.
The new Ivy Bridge notebook is the SVT1311W1E. This ultrabook shows an Intel Core i5-3317U processor with Turbo Boost technology. The specifications listed 13.3-inch screen, 128 GB of SSD storage, and 4 GB of memory. The chipset is listed as the HM76 Express and the machine can support a maximum of 8 GB of RAM.
The machines listed on the Sony website include a silver 11.6-inch ultrabook model number SVT1111M1E. The machine has a Core i3-2367M 1.4 GHz processor. It can be fitted with 4 to 8 GB of memory, and storage options include a 120 GB SSD, 320 GB HDD with a 32 GB SSD or 500 GB HDD with an SSD cache. There are also 256 GB and 512 GB SSD options. The base price for this machine is right under €674.
The other machine is the 13.3-inch SVT1311C5E. This machine uses an Intel Core i3-2367M processor at 1.4 GHz and an unknown optional Core i7 processor is available. The computer has 4 GB of memory base and can be optioned with up to 8 GB. It also gets the same exact storage options as the 11.6-inch model. Pricing for this machine starts right under €799. Apparently, the links for pre-ordering on the European websites have been pulled at this time.
[via Ultrabooknews]