Sony HT-ST7 Sound Bar introduced with nine drivers and seven amps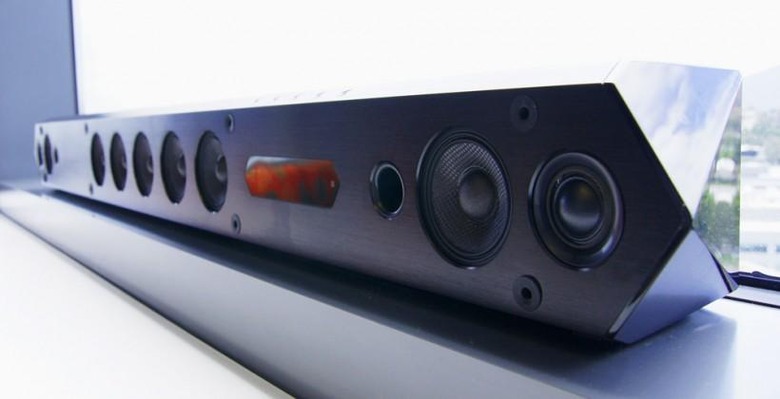 Sony has officially unveiled the HT-ST7 Sound Bar, which it teased late last month with some slightly ambiguous images. The device is available for purchase from Sony as of today, and brings with it nine independent drivers and seven amplifiers, which Sony says are "discrete." For such a device, audio enthusiasts are looking at $1,299 USD.
The bar itself is constructed using aluminum, and based on the images, which you can see for yourself in the gallery below, the metal appears to be brushed (on the face of the device, at least). The name is true to the shape, with the HT-ST7 being a horizontal bar with slightly angled edges and drivers lined up in an evenly spaced fashion.
Audio decoding comes by way of Dolby TrueHD and DTS-HD Master Audio, offering bass via a dual-driver subwoofer that is wireless. The design itself was given quite a bit of attention, with one Sony engineer saying during a Q&A for its launch that a single over-torqued screw can change the entire sound output of an audio device like this. Sony Pictures Studios sound engineers took part in the design process.
The use of S-Force Pro Front Surround, S-Master Digital Amplifiers, and magnetic fluid speakers have all been implemented for audio quality purposes, says Sony. There's an integrated Bluetooth connection for using the sound bar wirelessly, whether with a laptop or mobile device, which is achieved via a "Bluetooth Sync" button. There's support for both AAC and AptX.
There are seven inputs on the bar as well, include 3 HDMI ports, 3 digital audio ports, and one analog audio port. As such, the device can be used with a wide range of technologies, including older TVs or computers.
Said Sony's Home Audio Director Neal Manowitz: "Consumers are demanding great sound quality without compromising simplicity for their home entertainment. Unlike many other sound bars that focus on making the TV louder, we focused on great sound, delivering a dynamic stage and an immersive true 7.1 home theater experience. The result is a high performance sound bar great for movies and music that is easy-to-setup and use."
VIA: PRNewswire
SOURCE: Sony