Sony HDR-FX7E 1080-line "full-HDV" Handycam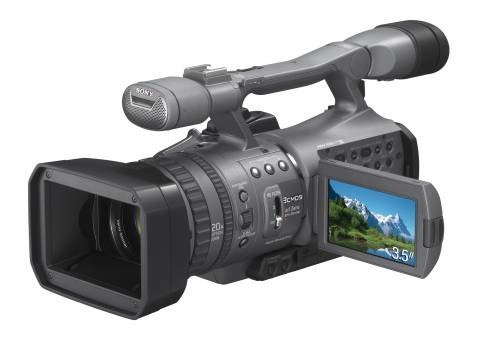 7th September 2006 – Serious amateur videographers can enjoy superb High Definition picture quality with the first ever HDV camcorder featuring the revolutionary Sony-developed 3ClearVid CMOS Sensor system. Teamed with the camera's superb Carl Zeiss® Vario-Sonnar T* 20x optical zoom lens, the new 3ClearVid sensor delivers High Definition pictures with exceptional resolution, purity and natural colour reproduction.
The new HDR-FX7E extends the benefits of 1080-line "full-HDV" shooting to a wide range of applications. Its HDMI interface allows digital connection of uncompressed High Definition video and audio signals to HD-ready televisions and other displays via a single cable. Recorded HDV video can be conveniently edited with a choice of available HDV non-linear editing software. Capturing widescreen 16:9 HDV 1080i video on standard MiniDV tapes, the HDR FX7E can also record and playback standard definition DV format signals.
40% smaller and 25% lighter than the first-generation HDR-FX1E, the HDR FX7E Handycam combines superb performance with a wide range of manual control functions and exceptional battery life.
3ClearVid CMOS Sensor system
The HDR-FX7E marks the first ever use of 3ClearVid CMOS Sensor technology. ClearVid CMOS Sensor is an innovative technology that uses a new pixel distribution to achieve higher resolution and increased sensitivity (4 lux minimum), boosting resolution, sensitivity and colour accuracy compared with conventional sensors.
By rotating pixels at a 45 degree angle, ClearVid CMOS Sensor doubles the area of each individual pixel while retaining the same pixel pitch as a conventional pixel layout. With a resolution of 1,120,000 total pixels, the 3ClearVid CMOS Sensor used in the HDR-FX7E takes this technology a step further, using a prism to direct light onto three independent imagers: one for each primary colour (RGB).
Using three separate imagers rather than one ensures richer, more accurate colour reproduction while improving sensitivity since there is very little attenuation between the lens and imagers. RGB data collected by the three imagers is then processed rapidly by the Enhanced Imaging Processor to deliver vivid, colourful yet remarkably natural pictures.
- Smooth Slow Rec
By combining the high-speed processing technology provided by the ClearVid CMOS Sensor and Enhanced Imaging Processor, the HDR-FX7E can capture a six-second 'burst' of images at 200 fields/second, or four times higher than standard 50 fields/sec recording. Replayed at normal speed this provides 24 seconds of smooth, highly detailed slow-motion.
- 1.07 megapixel Dual Rec Still Picture
High quality still images (1.07 megapixel resolution) can be captured during continuous video recording and stored onto Memory Stick PRO Duo removable media.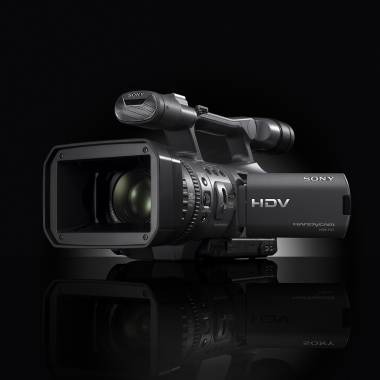 Carl Zeiss® Vario-Sonnar T* with 20x optical zoom and Digital Extender
The HDR-FX7E features a Carl Zeiss Vario-Sonnar T* lens with 20x optical zoom range equivalent to 37.4 – 748mm (35mm equivalent). An advanced T* optical multi-layer coating minimises undesired reflections on the lens surface, reducing flare and ghosting for even sharper, high quality images.
Extra Low Dispersion glass reduces chromatic aberration, especially at extreme zoom settings. The built-in Super SteadyShot optical image stabiliser helps to reduce shaky images, even when shooting handheld at high zoom settings.
Complementing the wide optical zoom range, a Digital Extender enlarges the recorded video image by a factor of approximately 1.5 times. Available at all zoom positions; the Digital Extender increases effective zoom range up to a maximum of 30x times magnification.
Two independent neutral density (ND) filters (1/4 or 1/16 filter) are included for adjusting the amount of light entering the lens, such as when shooting in bright sunlight.
Extensive manual control functions
In addition to its superb HD picture quality, the HDR-FX7E provides extensive manual control over zoom, focus, shutter speed, white balance, gain and other parameters to provide users with broader creative options.
- Independent manual zoom and focus rings
Independent manual zoom and focus rings provide a high degree of manual control, allowing 'pro' techniques like quick zoom from a foreground to background subject while focusing slowly at the same time.
- Auto Focus assist
Focus can be adjusted manually during auto focus mode for smooth, accurate focus even when auto focus mode cannot function sufficiently quickly on its own.
- Three-function Selectable Exposure Dial
Conveniently positioned directly behind the zoom ring, the exposure dial now adds "Iris" as well as "Exposure" and "AE Shift" settings that can be configured via a control button next to the dial.
8 hours continuous recording time
The energy-efficient HDR-FX7E uses an InfoLITHIUM L Series battery with STAMINA technology, boosting record time to a maximum of 8 hours (HDV recording) with NP F970 battery.
High-resolution 211k dots 3.5-inch Clear Photo LCD plus screen
Perfect for accurately composing and reviewing HD images, the high-resolution (211,200 dots) 3.5-inch LCD screen features Clear Photo LCD plus technology. With a colour gamut approximately 1.6 times wider than previous hybrid LCD designs, the screen offers superb contrast with richly saturated blacks and accurate colour reproduction. The widescreen display can be tilted out and swivelled for comfortable viewing in any shooting position. A high-visibility 0.54" 252,000 dots 16:9 colour viewfinder is also provided for accurate checking of composition, focus and image colour. The viewfinder and LCD screen can be turned on independently or simultaneously.
Shot Transition
A wide range of creative effects can be achieved with smooth, automatic transitions between shot settings. Any two settings can be selected from focus, zoom, iris, gain, shutter-speed and white-balance.
Picture Profile
Up to six picture profiles – including settings for colour depth, sharpness and other video parameters – can be registered and named for quick recall. The HDR-FX7E HDV Handycam will be available throughout Europe from Nov/E.
"Full-HDV" High Definition recording
New 3ClearVid CMOS Sensor system with Enhanced Imaging Processor
Carl Zeiss® Vario-Sonnar T* with 20x optical zoom
3.5" Wide Clear Photo LCD plus screen
Advanced manual functions
Compact and light weight plus 8-hour recording with STAMINA battery