Sony H20 is budget Cyber-shot with Ultra zoom lens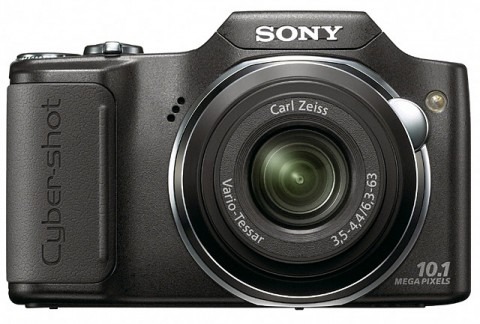 The new Sony H20 is company's budget ultra-zoom Cyber-shot with performance features. The 10 megapixel gets superior Carl Zeiss 10x optical zoom lens that's good for 38-380mm (35mm equiv) ) focus distances, and can record 720P HD movies with a 3-inch LCD screen.
Sony combines three key technologies to make this camera smarter – the 2009's Intelligent scene recognition that's featured in every new cameras announced so far, then there's Face Detection with additional memory to register and store faces, and an Optical SteadyShot image stabilization to battle motion blurs.
For the price of $279, video output cables like the component and HDMI accessories are not included, but nothing monoprice.com can't get you for cheap. There are pair of wider and telephoto conversion lens available for additional costs. The black only finished Sony's Cyber-Shot H20 is shipping from April.
February 17, 2009 — Sony today announced the new Cyber-shot DSC-H20 digital camera, a 10.1 megapixel model with 10x Carl Zeiss optical zoom lens and a 3-inch LCD screen. The DSC-H20 also offers intelligent auto mode, intelligent scene recognition, face detection technology, Steadyshot Ooptical Image Stabilization, Smile shutter technology, and HD movies for video's that are 3x higher-resolution than VGA models.

The intelligent auto mode, available on the H20, helps the camera "think" for you to detect scene conditions and adjust settings, especially in difficult lighting scenarios.

"This camera provides a seamless experience," said Karim Noblecilla, senior product marketing manager in Sony Electronics' Digital Imaging Division. "You can go from a walk in the park to taking pictures of a flower and then back to beautiful landscapes or indoor birthday parties, and the camera will know what to do to get the best shot."

Additionally, intelligent auto mode enhances pictures of faces to capture natural skin tones, identifies when your subject has closed eyes, and helps reduce blur without damaging image quality.

Sony has combined three key technologies to make this camera smarter.

Intelligent scene recognition (iSNC) detects up to eight scenes, recognizing objects, faces and lighting conditions (e.g. low light and backlight). Then, in one-thirtieth of a second, it changes the setting to get the best shot.

Face detection registers up to eight faces; adjusts focus, exposure, white balance and flash; and detects motion. This intelligent camera combines face detection with iSCN, featuring blink detection. It takes two pictures and saves the one in which the subject's eyes are the least shut.

The H20 also has selected-face memory, which allows you to zero in on the main subject's face. The next time the camera detects the priority face in the frame, it will automatically focus on that person.

The new H20 features Sony's Optical SteadyShot feature and Smile Sutter™ technology. The Optical SteadyShot image stabilization feature helps prevent blur due to camera shake without impacting image quality. Equipped with Sony's Smile Shutter technology, these cameras automatically capture a smile the moment it happens.

Another advanced feature that sets this camera apart from most digital still cameras is iSCN advanced. Noblecilla said the iAuto feature increases the chances of getting a great shot. You can also set up iSCN advanced as a permanent feature. When the scene has difficult lighting such as backlight or low light, the camera will take two shots within a fraction of a second using two alternative settings, so you can select which picture you prefer.

HD Movies

The H20 features wide and full-screen 720p movie recording at 30 frames per second in fine, standard and VGA recording modes. The 720p movie resolution is three times higher than VGA movies.

The movie function is based on the MPEG4 codec for video compression. Benefits of the format include high-quality video as well as PC-friendly files that are easy to download, upload and share.

Easy navigation

Sony has simplified the display of options on the H20 to make it easier for customers to use them. The most commonly used features include shooting mode, zoom, play, delete and Smile Shutter. These are available at a click or touch of a button. More sophisticated users can select other shooting modes or change the settings using the menu button.

Tools to Edit, Archive and Share

The H20 is equipped with tools to edit, archive and share. It has in-camera retouch features like red-eye correction and image management to easily sort through thousands of photos in calendar view or album view. You can group favorites and filter by baby, adult, all faces or smiles. The PhotoMusic feature offers an HD slideshow mode with transitions and music for viewing on the camera or television.

Bundled Picture Motion Browser (PMB) software allows you to quickly organize images on a compatible PC and upload images to the Web. You can search and organize images by event, smile or face, including children and infants. Then you can display them in calendar or chronological views organized into folders.

Pricing and Availability

The H20 camera will be available in black for about $280. Consumers can start pre-ordering these cameras in March at www.sonystyle.com. They will be available for purchase in April online at sonystyle.com, at Sony Style® retail stores (www.sonystyle.com/retail ), at military base exchanges and at authorized dealers nationwide.