Sony goes Crocodile for latest C-Series VAIOs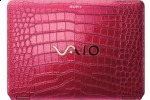 Sony Japan have just unleashed a new range of crocodile skin VAIO C-series laptops.  Available in pink, red and brown, no multicolored crocodiles were harmed in the texturing of these notebooks: instead, Sony mold the plastic to resemble their scaly hides.
Under that textured plastic there's a choice of Intel Core 2 Duo processors, NVIDIA GeForce 9200 GS GPU and up to 8GB of RAM.  Storage is up to 500GB and the OS is Windows Vista.
Initially only available in Japan, the Sony VGN-CS92DS, VGN-CS92JS and VGN-CS92XS will launch on April 18th, priced from 104,800 yen ($1,024).  No word on whether they'll make it to Europe or the US.
[via Sony Insider]