Sony gaming patent suggests motion-sensitive Transformer controller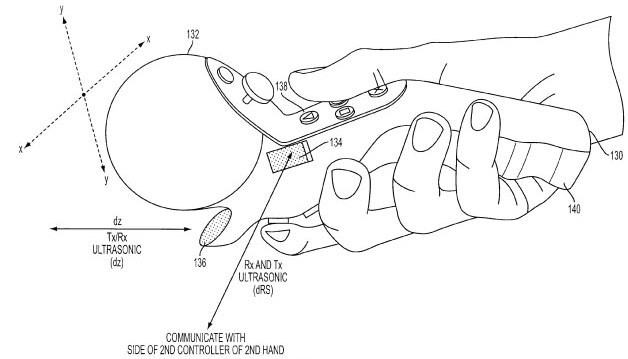 It looks a little like a tool to remove the head from your favorite miserable robot, but this is actually a diagram from one of Sony's latest game controller patents.  The as-yet unnamed controller takes the accelerometer and LED-based tracking system of the Wiimote and adds ultrasonics to gauge its absolute position relative to your TV (via the PSEye microphone array) and other controllers.
Two examples of the controller can also be joined together.  Sony illustrate that in two different ways (see the gallery below), both as a long double-ended stick and in a side-by-side configuration.  In the latter setup a secondary faceplate can be attached offering an alternative button layout.
Since it relies in part on the PSEye camera, the system can also use face and body tracking to monitor the player as well as the controller.  There's no indication of when (or even if) Sony might bring a controller such as this to the market, but given the success of the Wii and its innovative gaming interface it seems likely they'd be strongly considering it.
[via Gizmodo]