Sony G Series XQD Version 2 Memory Cards Support 350 MB/s Writes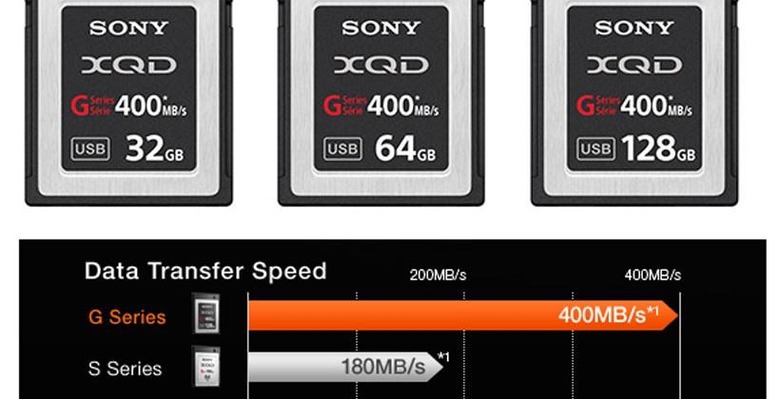 Professional and amateur photographers alike who use high-end DSLR cameras like the Nikon D4 and D4s know that a fast memory card is a requirement if you want to take full advantage of the camera's capabilities. Sony has quietly launched a new generation of memory cards that will begin shipping on November 3. These memory cards are called the G Series XQD version 2 memory cards and deliver impressively fast read and write speeds.
The cards are able to reach read speeds of 400 MB/s and write speeds of 350 MB/s. Storage capacity for the card series is up to 128GB and all of the cards no matter the size come with a USB 3.0 card reader. Sony's memory cards support both PCI Express Gen.2 and USB 3.0 interfaced thanks to a new controller.

The read and write speeds are three times as fast as previous N Series cards. Sony is aiming the memory cards at photographers and videographers who are recording in 4K resolution and need a high capacity memory card with enough speed to support large file sizes easily.
The faster read and write speeds and the inclusion of a USB 3.0 adapter make it easier to work with large video files in the editing room. The speed also allows faster movement of RAW files in bulk to and from the memory card. Pricing for the memory card ranges from $163.50 to $799.95.
SOURCE: Nikon Rumors