Sony G Series Professional SSDs Launch For 4K Video Recording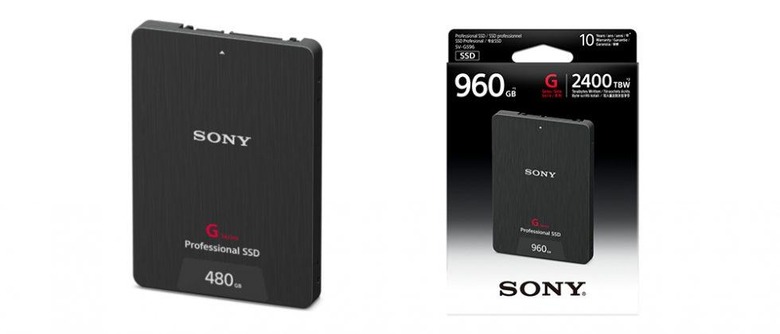 Sony has introduced a pair of new G Series solid state drives designed specifically for videographers or photographers who need expansive storage for Ultra HD 4K footage. Both drives are part of Sony's G Series Professional lineup, and they come in two capacities: 480GB and 960GB. The drives can be used with DSLRs or camcorders; they offer, among many other things, longer than usual lifespans alongside a high level of reliability.
The G Series Professional SV-GS48 (480GB) and the SV-GS96 (960GB) are both designed to be highly reliable, helping put videographers' minds at ease when recording large quantities of 4K data. The 480GB drive, assuming data is fully written to the drive an average of five times a week, will last for about five years before needing replaced, while the 960GB drive will last about 10 years.
The company says it has integrated technology in the drives that will prevent sudden write speed decreases after use. The drives are able to handle high-bitrate UHD video recording without risk of dropping frames, Sony goes on to say, making them capable of recording ProRes 422 HQ 4K/60p video, as one example. In addition to docking with cameras that support them, the drives can be removed and independently connected to a computer.
The drives offer read speeds of up to 550MB/s when connected to a computer, and that connection itself is robust, with Sony saying the drives' connectors can handle up to 3,000 instances of insertion and removal. This is said to be six times greater than what an ordinary SATA connector can handle.
The G Series Professional 480GB SSD will arrive next month for $287 USD, while the 960GB model will be priced at $539 USD.
SOURCE: Sony Blog