Sony event in India could be for the Xperia Z4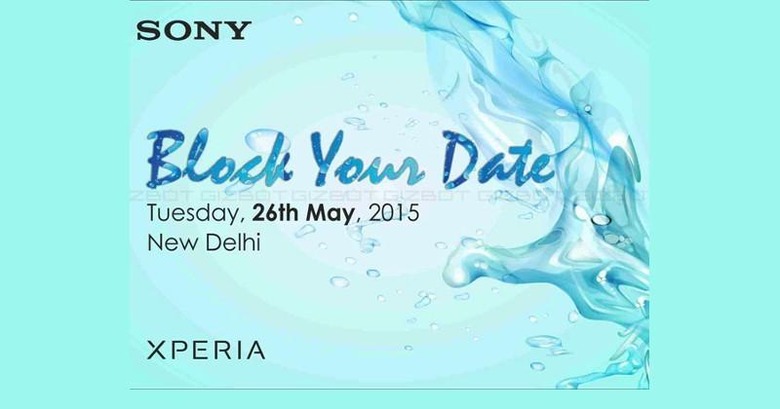 If the stars align, we might actually get to see the Sony Xperia Z4, as it is known in Japan, head outside the Land of the Rising Sun, contrary to earlier assurances that the weird device is a Japan-only affair. Sony sent out invitations in India for an event dated May 26, and although the aquatic theme of the invite suggests the Xperia M4 Aqua, there are whispers that it might actually be intended for the start of the global launch of the Xperia Z4 instead.
If that were true, Sony might have a PR problem in its hands soon. To say that the Xperia Z4 was a disappointment might be the understatement of the year. It might have been a wise move to unveil the smartphone almost too quietly in Japan last month, considering the Xperia Z4 is pretty much the Xperia Z3, only with an upgraded processor, from a Snapdragon 801 to a 64-bit octa-core Snapdragon 810 that may or may not overheat.
There was a bit of a sigh of relief when there was a leak that showed the Xperia Z4 also referred to as the Xperia Z3+, which is a more appropriate description of the device. There was also some expectation that the phone would stay in Japan. That, however, might really only be a rumor.
Of course, this rumor could also be just that as well. The Xperia M4 Aqua, unveiled last month, is probably a better fit to the image's theme. The mid-ranger sports the same 5.2-inch size but with a downgraded 720p resolution. It will also have a 64-bit processor, though probably along the lines of a Snapdragon 410 or, better yet, a 610. Whatever the specs, though, it's main calling will naturally be its rugged properties, as depicted by the splash of water everywhere.
Sony has been known, or notorious, for incremental changes in its flagships, from the Z1 to the Z2 to the Z3, though the half-step of the Xperia Z4 is near ridiculous. As the lukewarm reception of the HTC One M9 showed, one can only reuse a tried and tested formula only so much before it backfires. Unless Sony comes up with a real 2015 flagship soon, it might be fulfilling it's own prophecy of doom for its mobile devices business.
VIA: Xperia Blog