Sony Ericsson Z310 Ágatha Ruiz de la Prada special edition is ugly as sin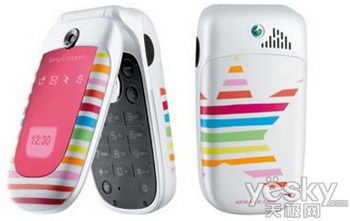 Some of you out there will probably like this phone, or like the artist behind it enough to deal with it, but I think this may be the most revolting mobile device I have seen since the brick phone. Onto the good stuff though, basically it's like all the other special editions, it's the same phone, but looks different and has some extra pre-loaded content.
In this case, the pre-loaded content is wallpapers from the same artist that designed the exterior of the phone. The exterior has a pink reflective surface, and a rainbow striped star patter that starts on the back, and then carries over to the front.
Vodafone Europe is apparently the only carriers of the horrid device. They are robbing purchasers by charging an outrageous $138 for this simple clamshell, if I had to guess, that price is probably only if you sign your life away.
Sony Ericsson Z310 Ágatha Ruiz de la Prada special edition [via intomobile]