Sony Ericsson Yari with motion-sensitive gaming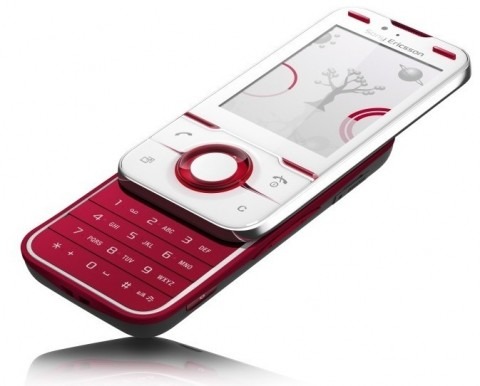 Sony Ericsson's final new cellphone today is the Yari, a motion-gaming handset that brings Wii-style games to a mobile handset.  Yari uses sensors hidden in its bezel to recognize body movement, together with accelerometers and gesture controls.  There's also a new Gaming Carousel menu, with access to downloadable games from the desktop.
Video demo after the cut
As a phone, the Yari supports UMTS 3G and quadband GSM.  There's also A-GPS, Bluetooth and a 5-megapixel camera with autofocus, face detection and geotagging.  No Xenon flash, but there is a video light.  New games will be distributed via the Sony Ericsson PlayNow arena.
The Yari comes complete with a portable stand - which can be used to hold the handset upright while playing games – together with Bluetooth A2DP support, a full-fledged media player, internet browsing courtesy of Access' NetFront and Google Maps.  It'll hit the market in Q4 2009, priced at around €400 ($558) unlocked.
Hands-on gallery and video with the Yari here
[vms 1b6b7a7d29490fe5ec9f]
Press Release:
Twist, tilt, turn, smash – gesture gaming is here with the Sony Ericsson Yari

Challenge your friends to the newest invention in mobile phone gaming. Yari debuts Gesture gaming – forget about pushing buttons, with Gesture gaming you make the moves in front of the screen to get right in the middle of the action!

London, UK – May 28, 2009 – Today Sony Ericsson launches Yari the ultimate phone for mobile fun, whether it's gaming you're after or multimedia action. Nothing to hold, nothing to twist – except your body – gesture gaming technology gives users a unique gaming experience no matter where they are. With a variety of games to choose from, whether you want to keep fit and stay in shape or just want to beat your best score at tennis or boxing, Yari brings you fun wherever you are.

And with Yari there's always a new game to play. In addition to gesture games, there is a mix of pre loaded motion and standard games. Yari introduces a games carousel that allows you to access all your games from your desktop and to browse downloadable content on PlayNow™ arena. You can view content by category and choose to browse free or premium content – so no matter your preferences there's one to suit you.

"Yari is the industry's first mobile phone with gesture gaming outside of the Japanese market," said Catherine Cherry, Market Business Manager at Sony Ericsson. "It's time to move like you've never moved on a mobile phone before! With Gesture gaming you move your body to play instead of pressing buttons on the phone, giving you a fun experience that even helps you keep fit. If you've exhausted yourself with the games there are loads of other multimedia features to enjoy. Snap your friends with the five megapixel camera or chill out to your favourite tunes with the state-of-the art music player".

Yari

Twist, tilt, turn, smash – gesture gaming is here

Gesture and motion gaming for action on and off the screen

A/B buttons – gaming shortcut keys

Gaming carousel gives direct access to your games from the desktop

State-of-the art music player and stereo speakers for easy listening

Music call – one button press to share your favourite tracks while you talk

5.0 mega pixel camera – easily upload images to your web album

Send your location by SMS

To enhance your gaming experience Yari comes complete with the EC500 phone stand. The phone stand is small and portable and comes with an integrated keyring which makes it easy to carry thereby ensuring that you never miss an opportunity to play to your heart's content. To pump up the volume while on the move use the Outdoor Wireless Speaker MS500 – small enough to fit in the palm of your hand, and so light it can be taken anywhere and everywhere.

Yari supports GSM/GPRS/EDGE 850/900/1800/1900 and UMTS/HSDPA 900/2100. Yari will be available in selected markets from early Q4 in the colours Achromatic Black and Cranberry White.

The Sony Ericsson Yari at a glance

Camera

5.0 megapixel camera

Up to 4x digital zoom

Auto focus

Face detection

Geo tagging

Photo feeds

Photo fix

Photo light

Send to web

Smile detection

Video light

Video recording

Music

Album art

Bluetooth™ stereo (A2DP)

Music player

Mega Bass™

Music tones (MP3/AAC)

PlayNow™

SensMe™

Shake control

Stereo speakers

TrackID™

Web

Access NetFront™ Web browser

Bookmarks

Google™ search (from standby)

Web feeds

Communication

Call list

Polyphonic ringtones

Speakerphone

Vibrating alert

Video calling

Messaging

Conversations

Email

Exchange ActiveSync®

Instant messaging

Picture messaging (MMS)

Predictive text input

Sound recorder

Text messaging (SMS)

Design

Auto rotate

Torch functionality

Media

Picture wallpaper

Wallpaper animation

Entertainment

3D games

Dedicated gaming keys

FM radio with RDS

Java

Gesture gaming

Motion gaming

Music call

Tracker

Video streaming

Video viewing

Walk mate

YouTube™

Connectivity

A-GPS

Bluetooth™ technology

DNLA Certified™

Google Maps™

Modem

PictBridge

Synchronisation

USB mass storage

USB support

Organizer

Alarm clock

Calculator

Calendar

Flight mode

Notes

Phone book

Stopwatch

Tasks

Timer

Accessories

In-Box:

Yari

Battery

Battery Charger

1GB Micro SD card

USB cable

User guide

EC500 phone stand

MH300 head set

Facts and Figures

Size: 100 x 48 x 15.7 mm

Weight: 115 grams

Colours: Achromatic Black, Cranberry White

Main screen: 262,144 colour TFT

Resolution: 240 x 320 pixels (QVGA)

Size: 2.4 inches

Phone memory: Up to60MB

Memory card support: SanDisk microSD™

Talk time GSM/GPRS: Up to 10 hrs

Standby time GSM/GPRS: Up to 450 hrs

Talk time UMTS: Up to 4.5hrs

Standby time UMTS: Up to 450hrs

Availability and versions

Networks:

Yari

GSM/GPRS/EDGE 850/900/1800/1900

UMTS/HSUPA 900/2100

Yari(a)

GSM/GPRS/EDGE 850/900/1800/1900

UMTS/HSUPA 850/1900/2100

Available in selected markets from early Q4 2009.

Legal

1) Facts and features may vary depending on local variant.

2) Talk and standby times are affected by network preferences, type of SIM card, connected accessories and various activities e.g. games. Kit contents and colour options may differ from market to market. The full range of accessories may not be available in every market.

© Sony Ericsson Mobile Communications AB, 2009.