Sony Ericsson XPERIA X2 leaks?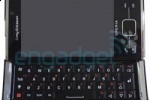 This, if Engadget's anonymous tipster is to be believed, is Sony Ericsson's unannounced XPERIA X2, the smartphone that will eventually replace the company's XPERIA X1.  Bearing a slide-out QWERTY keyboard, as with its predecessor, and what looks to be a curved profile, the X2 – codenamed "Vulcan" – bears the X Panel shortcut Sony Ericsson use to trigger their panel GUI.
There's also a Windows key on the top left-hand side of the QWERTY keyboard, which confirms that the X2 will use Windows Mobile (and likely version 6.5 of the Microsoft OS).  Otherwise everything else is speculation: there appears to be a lens up near the earpiece, which could be a front-facing video camera or might be a light sensor, while the front-panel keys may be touch-sensitive.
The picture is small, and possibly a composite or mockup, but already we're not feeling the design.  Compared to the original X1 it looks a little bland and plasticky; hopefully that's a side-effect of the early development stage, and not a sign of things to come.