Sony Ericsson XPERIA X2 in wild: no OLED, launch from fall?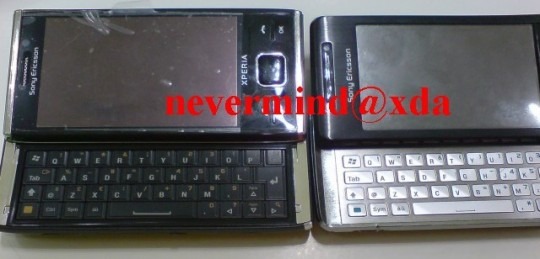 It's all getting a little confusing, what with two sets of leaked Sony Ericsson XPERIA devices making the rounds.  Yesterday's Sony Ericsson XPERIA X3, formerly known by its codename of "Rachel", is the company's upcoming Android smartphone, while today we're looking at the Sony Ericsson XPERIA X2, the Windows Mobile based successor to the XPERIA X1.  More images of the device have leaked over at XDA-developers.According to photo-source "nevermind", the XPERIA X2 uses the same touchscreen as the X1, and as for the panel "it doesn't seem as OLED to me" which suggests that the rumors that Sony Ericsson would switch to the new technology from LCD were false.  The display measures 3-inches, and despite being slimmed down from its predecessor he still reckons it's a "huge brick".
Unfortunately the two videos are currently down, so there's no footage of the X2 in action.  Nothing definite as yet – even the specifications are subject to change from what's here in this prototype – but "nevermind" believes it could launch as early as fall 2009.
[Thanks Mohith!]