Sony Ericsson XPERIA X10 gets official: Hands-on Video Demo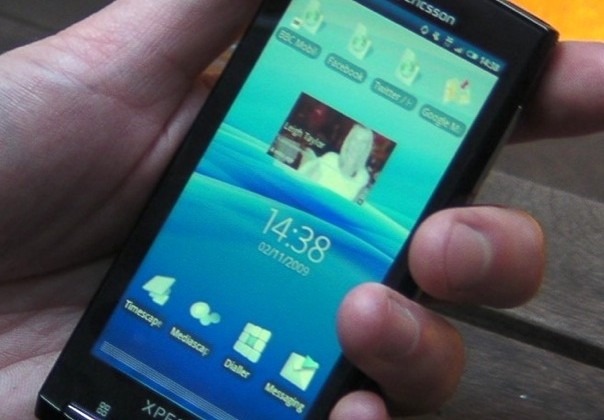 Sony Ericsson have finally come clean on their latest smartphone, and as expected it's an Android flagship. The Sony Ericsson XPERIA X10 – previously known as the Rachael and the X3 – is a Snapdragon-based touchscreen candybar, with a huge display, 8.1-megapixel camera and some "special sauce" in the shape of two homegrown applications – for communication aggregation and media aggregation – with a custom UI. SlashGear caught up with Sony Ericsson in London yesterday to take a look at the new smartphone, and find out why the company reckons this is the launch not only of the Android X10 but of a new "user experience platform".
After the cut: live XPERIA X10 gallery and video
The Sony Ericsson XPERIA X10 has a 4-inch capacitive touchscreen running at WVGA 480 x 854 resolution, though there's no multitouch support; the company claimed that they didn't want to "fragment" Android by adding it to the handset as HTC have done. In fact, beyond the custom skin and two key applications, the OS is pretty much standard Android 1.6; Sony Ericsson have left the default on-screen keyboard, and the Android Market is present for the usual downloading of extra applications. Other hardware specifications include UMTS 3G HSDPA/HSUPA, along with WiFi b/g, Bluetooth 2.1 and GPS, together of course with the 1GHz Qualcomm Snapdragon chipset. Connectivity includes microUSB and a 3.5mm headphone jack, both on the top edge of the X10, and there's a microSD slot with an 8GB card in the box as standard. The camera is an 8.1-megapixel unit with autofocus and an LED flash, together with some of the CyberShot extras we've seen on previous Sony Ericsson handsets.
Sony Ericsson's two key developments on the X10 are Timescape and Mediascape, each running as a standalone application but fully integrated in terms of features into each of the native Android apps. Timescape handles events, with a single view of tumbling panes each detailing the most recent changes, updates or events. SMS or email messages, calls, voicemails, photos, Twitter or Facebook updates and calendar entries are all pulled together into one dangling stream, and you can tap each pane to see it completely; hitting the Infinity symbol in the top corner then pulls together related information from all across the phone and online.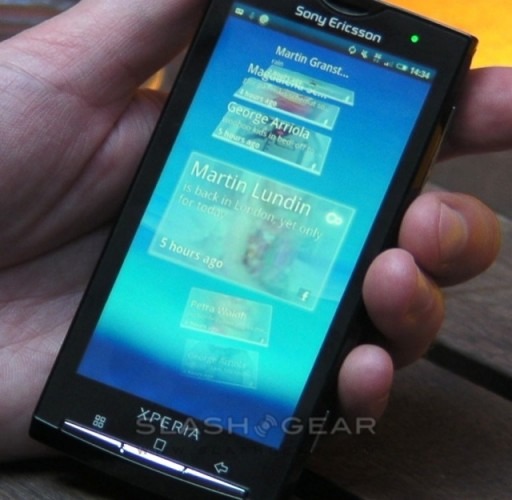 For instance, if you tap an SMS pane and then hit Infinity, the XPERIA X10 will bring up the contact details for that individual including all of their Twitter, Facebook, email, photos (both on the phone – pulled together using automatic facial recognition – and in any linked photo galleries online) and anything else. Scrolling between tabs at the bottom of the list can pull out different categories: SMS, email, etc. Facial recognition can spot up to five different faces in each image and, once an individual is tagged, you can dial them or trigger a message simply by tapping them in the gallery
Mediascape, meanwhile, works in a similar way to Timescape but for audio, video and still image content. Three tabs show photos, audio and video, with the top half of the screen having draggable bars showing local content (split into rows by most recent, most played, etc.) while the lower half has online content. Sony Ericsson are working with content providers and carriers to develop this latter content; right now, the XPERIA X10 has access to YouTube video and online galleries, but there's the potential for carrier-provided streaming music, PlayStation Network integration or third-party services. We'd particularly like to see Spotify integration too.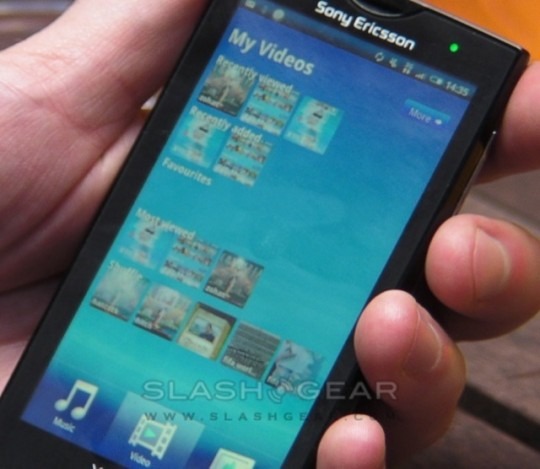 As with Timescape, tapping on the Infinity icon in any media listing will pull together not only any other content by the same artist on the handset, but information online too. That could include YouTube videos, album details, discographies and concert dates, together with suggested tracks from PlayNow and other services. It's also straightforward to then create a new message, such as tweeting what track you're currently listening to, or suggesting a new artist to someone via email or SMS.
Unfortunately, the single pre-production handset Sony Ericsson had brought along to demonstrate was running non-optimized software, which considerably undermined the strength of the Snapdragon chipset. Performance in Timescape and Mediascape was sluggish and jerky, with both apps slow to load, slow to update and prone to suffering screen locks. The regular applications – Google Maps, for instance – were much more impressive, with brisk load times and rapid screen orientation flips. Still, there's plenty of time for optimization to take place; despite the launch this week, the XPERIA X10 isn't expected until the new year.
Sony Ericsson are saying they'll release the XPERIA X10 in Q1 2010, though when pushed they did confirm it's unlikely to be either at the very beginning or very end of that quarter. We're guessing the smartphone will have its official debut at Mobile World Congress in February 2010 and go on sale in Europe shortly after; Sony Ericsson are hoping for a global roll-out (including the US and Japan) but they recognize that some geographies (we're looking at you, North America) are more carrier-controlled than others and so timescales vary. No word on pricing at this stage.
Beyond the X10 – which SE describe as their flagship for 2010 – there'll be a range of mid-tier smartphones based on both Symbian and Android, each sharing the (as yet unnamed) same user interface. According to the company, the UI is platform-agnostic – they're even considering using it on future Windows Phones – and will eventually be positioned as distinct from the hardware, similar to how HTC Sense has been branded. Unfortunately there'll be no retroactive deployment, so Satio buyers will have to make do with that smartphone's existing UI. It'll come as little consolation for those owners, but Sony Ericsson do expect to offer more consistent, long-term updates to their "smart" devices from now on; the X10, for instance, will eventually get an update to Android 2.0.
It's too early to give a conclusive opinion on the XPERIA X10; while Sony Ericsson's demo model proved reasonably capable in the core Android apps, the real test will be whether Timescape and Mediascape have the speed to back up their functionality.  It's worth remembering when you watch the demo video below that the X10 being shown is non-optimized; SE assure us that the final result will be far snappier.  As we've seen with Motorola's MOTOBLUR and HTC's Sense, adding value to Android can definitely help define your smartphone from the rest of the crowd; while we have little doubt that Sony Ericsson will be able to get the hardware/software mix fettled in time, our prime concern is that the XPERIA X10 may not – like the X1 before it – make it to shelves before the pre-release hype has expired.  Full specifications of the X10 after the video demo.
Sony Ericsson XPERIA X10 demo:
[vms 85b952b62c14a3a175a6]
Sony Ericsson XPERIA X10 at a glance:
Camera
8.1 megapixel camera
Up to 16x digital zoom
Auto focus
Intelligent face recognition features
Geo tagging
Image and video stabilizer
Photo and video light
Send to web (photo and video upload)
Smile detection
Touch focus
Video recording
Recent shot tray
Music
Album art
Bluetooth™ stereo (A2DP)
Media player
Music tones (MP3/AAC)
PlayNow™
TrackID™
Web
Bookmarks
Google™ search (from standby)
Web feeds
WebKit web browser
Communication
Sony Ericsson Timescape™
Speakerphone
Vibrating alert
Messaging
Conversations
Email
Microsoft Exchange ActiveSync®
Picture messaging (MMS)
Predictive text input
Text messaging (SMS)
Design
Auto rotate
Gesture control
Picture wallpaper
Touchscreen
Entertainment
3D games
Media browser
Infinite button
Video streaming
Video viewing
YouTube™
Organiser
Alarm clock
Calculator
Calendar
Flight mode
Infinite button
Office suite
Phone book with dialer
World clock
Location-based services
A-GPS
Google Maps™
Wisepilot™ turn-by-turn navigation* (free trial version)
*The service may not be available in every market. For more information, go to www.sonyericsson.wisepilot.com
Connectivity
3.5 mm audio jack
Bluetooth™ technology
Micro USB connector
Synchronisation
USB support
Wi-Fi™
Preloaded applications
Sony Ericsson Timescape™
Sony Ericsson Mediascape
Sony Ericsson Home with clock widget
Sony Ericsson Sync
Android Market™ Client
Gmail™
Google Calendar™
Google Maps™ with Street View
Google Media Uploader
Google phone-top search
Google search widget
Google Talk™
Google Voice Search™
Network Location Provider
Set-up Wizard
YouTube™
Screen
262,144 colour TFT touchscreen
4.0 inches
480 x 854 pixels (WVGA)
Scratch-resistant
Accessories
In-Box:
XPERIA™ X10
Battery
Stereo portable handsfree
8 GB microSD™ card
Micro USB cable for charging, synchronisation and file transfer
User documentation
Optional:
Hi-Fi Wireless Headset with FM Radio MW600
Car Charger AN300
Screen Protector ET902
Facts 1)2)
Size: 119 x 63 x 13 mm
Weight: 135 grams
Phone memory: Up to 1 GB
Memory card support: microSD™
Memory card included: 8 GB
Operating system: Google™ Android Donut, version 1.6
Processor: 1GHz Qualcomm Snapdragon™ QSD8250
Availability and versions
Networks
UMTS HSPA 900/1700/2100
GSM GPRS/EDGE 850/900/1800/1900
UMTS HSPA 800/1900/2100
GSM GPRS/EDGE 850/900/1800/1900
Available in selected markets in Q1 2010
Colour
Sensuous Black
Luster White