Sony Ericsson XPERIA X1 hits US November 28th for $800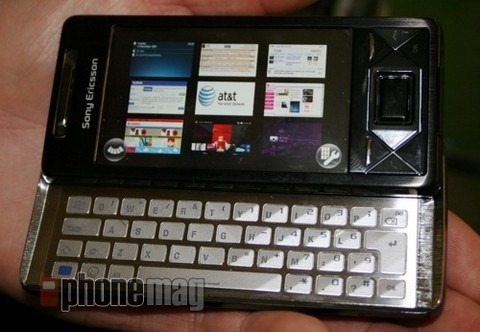 Sony Ericsson have finally confirmed the US launch date for their XPERIA X1 smartphone.  The Windows Mobile 6.1 Pro device – which has both a WVGA touchscreen and a slide-out QWERTY keyboard – is available for preorder from today, with delivery and in-store sales beginning November 28th.  As for the price, unsubsidized the SE XPERIA X1 will cost $799.99.  That gets you quadband GSM/GPRS/EDGE and triband UMTS/HSDPA/HSUPA (850/1900/2100MHz) which, you might have noticed, does not include T-Mobile USA's commonly-used 1700MHz band.
Right now there's no word on any carrier partnerships, but given Sony Ericsson's choice of frequencies it seems likely that AT&T would be the likeliest prospect.  Even unlocked, though, you still get the XPERIA 'Panels' GUI, which overlays Windows Mobile with a series of customizable shortcut panes, a 3.2-megapixel camera with photo light, Bluetooth with A2DP support, WiFi and A-GPS.  Sony Ericsson have also given the X1 an optical joystick and voice control.
The XPERIA X1 measures 110 x 53 x 16.7 mm and weighs 145g.  The display is 3-inches at 800 x 480 resolution (the same resolution as the HTC Touch HD, but a smaller overall panel) while internal memory is up to 400MB with expansion via microSD cards.
Press Release:
Sony Ericsson Xperia™ X1 Available in U.S. for 2008 Holiday Season

Pre-orders for the premium converged device begin today at SonyStyle.com

Research Triangle Park, N.C. – November 12, 2008 – Today, Sony Ericsson North America announced the arrival of the highly anticipated Xperia™ X1 to the U.S. marketplace. The Xperia™ X1 delivers a range of multimedia and communication experiences that have long been coveted and in demand by consumers.

The Xperia X1 will be available unlocked through Sony Electronics and its authorized retailers beginning on "Black Friday," November 28. Pre-orders of the Xperia X1 will be available through the Sony Style Web site at www.sonystyle.com beginning November 13. This premium device will be sold unlocked for the MSRP of $799.99, giving consumers the freedom to choose their own mobile operator and data plan.

"The Xperia X1 continues the Sony Ericsson tradition of delivering the highest quality experiences and the most advanced technology available today," said Karen Morris, vice president of marketing, Sony Ericsson North America. "The most exciting scenarios enabled by the Xperia X1 will be created by consumers – enabling them to customize and personalize their device and content to fit their lifestyle and personality."

The Xperia X1's unique panel user interface is at the heart of the device's ability to create and adapt consumers' personal choices. With up to 9 panels, it's easy to find and enjoy the information and entertainment content they want. Sony Ericsson is busy working with third-party developers to create a wealth of new applications and new panels that will soon be available for download.

By incorporating the Windows Mobile® 6.1 Professional operating system, the Xperia X1 frees consumers from their home and office, allowing them connectivity to their content wherever they are.

"Windows Mobile gives people the ability to easily navigate between their business and personal lives," said Todd Peters, vice president of marketing, Mobile Communications Business, Microsoft. "The panel user interface found only in the Xperia X1 is bringing unique experiences to consumers who want more from their converged devices."

As Sony Ericsson's most advanced phone to date, the Xperia X1 brings together a large, 3-inch wide VGA display touchscreen and a full QWERTY keyboard all wrapped into a sleek silver metal- finished arc slider handset. The Xperia X1 supports fast 3G networks, enabling audio and video streaming, high-speed internet surfing, multimedia messaging and email on the go. In addition to delivering 3G mobile broadband speeds, the Xperia X1 supports WiFi to meet the needs of consumers' always connected lifestyles.

In the tradition of Sony Ericsson, the Xperia X1 offers consumers the ultimate multimedia experience with a 3.2 megapixel camera, video streaming, video playback and video recording, and the ability to enjoy all their digital music.

"The Xperia X1 complements Sony Electronics' family of Windows-based devices and leverages the company's heritage of providing beautifully designed, highly functional, portable electronics," said John Kodera, vice president of product marketing, Sony Electronics. "The Xperia X1 delivers the highest quality entertainment, communication and personalization options for consumers."

Sony Ericsson Xperia™ X1 – At a Glance

Camera

• Auto focus

• 3.2 megapixel camera

• Photo light

• Video recording

Multimedia

• Bluetooth™ stereo (A2DP)4

• Media player

• Music tones

• Windows Media® Player Mobile

• 3D games

• FM radio

• Java™

• Video streaming

• Video viewing

Internet7

• Internet Explorer® Mobile

• RSS feeds

• Opera™ 9.5

Communication and Messaging

• Polyphonic ringtones

• Speakerphone

• Vibrating alert

• Video calling3,8

• Email

• Picture messaging (MMS)9

• Predictive text input

• Text messaging (SMS)9

Design

• XPERIA™ panels

• Optical joystick navigation

• Navigation key

• Picture wallpaper

• Touch navigation

Organizer

• Alarm clock

• Calculator

• Calendar

• Document editors

• Document readers

• Flight mode

• Handwriting recognition

• Notes

• Phone book

• Tasks

• Touchscreen

Connectivity

• aGPS

• Bluetooth™4 technology

• Modem

• Synchronization

• USB support

• WLAN

Windows Mobile® Operating System

• Microsoft® Outlook® Mobile: email, contacts, calendar, tasks

• Microsoft® Office Mobile: Word Mobile, Excel® Mobile, PowerPoint® Mobile

• Windows Live™

• Microsoft® ActiveSync®

• Voice control

• Utility Applications: file explorer, calculator, pictures & video, notes

Facts and Figures

Size: 110 x 53 x 16.7 mm (approx.)

Weight: 145 grams (approx.)

Available colors: Silver

Main screen: 65,536 color TFT

Resolution: 800 X 480 pixels

Size: 3 inches (approx.)

Phone memory5: up to 400 MB

microSD™ memory card support

Networks:

GSM/GPRS/EDGE 850/900/1800/1900

UMTS/HSDPA/HSUPA 850/1900/2100 MHz

Legal Information

1) Facts and features are subject to change without notice and/or may vary depending on local variant.

2) Talk and standby times are affected by network preferences; type of SIM card, connected accessories and various activities e.g. games. Kit contents and color options may differ from market to market. The full range of accessories may not be available in every market.

3) Compatible service required. Some features may not be supported by all operators or in all markets. Additional charges may apply.

4) Ability to use this Bluetooth™ enabled product with other devices may vary as not all Bluetooth™ devices are compatible.

5) Actual free memory may vary due to phone pre-configuration.

6) 3G not available in all areas or from all service providers.

7) Internet services may require a fee.

8) Both parties must be in a 3G area, have a phone enabled for video calling, and have a video calling service plan to use this feature. Video calling not offered by all service providers. Additional charges may apply.

9) Standard messaging rates apply.

© 2008 Sony Ericsson Mobile Communications (USA) Inc.

Screen images are simulated or enhanced. Music tracks displayed are for demonstration purposes only and are not included. The Liquid Identity logo, XPERIA(TM) , and the XPERIA(TM) logo are trademarks or registered trademarks of Sony Ericsson Mobile Communications AB. Sony is a trademark or registered trademark of Sony Corporation. Ericsson is a trademark or registered trademark of Telefonaktiebolaget LM Ericsson.

Microsoft, Windows, PowerPoint, Windows Media, Windows Mobile, Office, ActiveSync and Internet Explorer are trademarks or registered trademarks of Microsoft Corporation. Bluetooth is a trademark or registered trademark of Bluetooth SIG Inc. and is used under license. Java and all Java-based trademarks and logos are trademarks or registered trademarks of Sun Microsystems, Inc. Wi-Fi is a trademark or a registered trademark of the Wi-Fi Alliance. Other product and company names mentioned herein may be the trademarks of their respective owners. Any rights not expressly granted herein are reserved.

Sony Ericsson Mobile Communications was established as a 50:50 joint venture by Sony and Ericsson in October 2001, with global corporate functions located in London. The company serves the worldwide communications market with innovative and feature-rich mobile phones, accessories and PC-cards, and it has R&D sites in Europe, Japan, China, India and America. Sony Ericsson is the title sponsor of the Women's Tennis Association, and works with the Association to promote the Sony Ericsson WTA Tour in over 80 cities during the year. For more information, please visit www.sonyericsson.com