Sony Ericsson XPERIA Arc HD caught in wild, benchmarked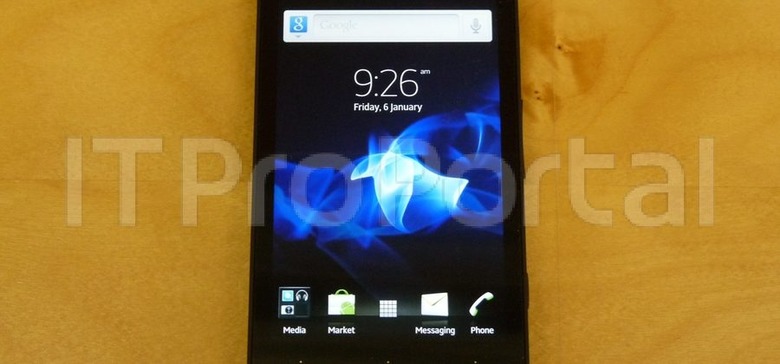 Sony Ericsson's teased CES 2012 smartphone, the XPERIA Arc HD (codenamed "Nozomi"), has been caught in the wild and benchmarked already. The Android 2.3.6 Gingerbread smartphone has a 1280 x 720 display, 1.5GHz dual-core Snapdragon MSM8660 chipset and, ITProPortal's source confirmed, no expandable memory slot. Still, the 12-megapixel camera should make up for any disappointment.
The 8GB of storage on this leaked prototype unit will end up filling fast if you go shutter-bug-happy, however, and we're guessing 1080p Full HD video will also demand its share of the space. Hopefully Sony Ericsson is planning more capacious variants for the actual launch. No word on connectivity – we're guessing the usual array of HSPA+, WiFi b/g/n and Bluetooth – but there's a microSIM rather than the more common miniSIM, just as you'd find in an iPhone 4S or a Lumia 800.
Unfortunately the benchmarks only show one of the two processor cores active during testing, with Quadrant coming up with a score of 2219. Still, that's all likely to change for production models, as Sony Ericsson is probably still fettling the software.
Ice Cream Sandwich at launch looks unlikely, as the translucent band running around the bottom of the Arc HD has back, home and menu buttons, as required in Gingerbread. Still, Sony Ericsson seems keen to get all its devices up to speed with Android 4.0 as soon as possible, so an upgrade is almost certain. We'll know more when the Sony Ericssson XPERIA Arc HD makes its official debut, expected at CES next week.