Sony Ericsson W995a first-impressions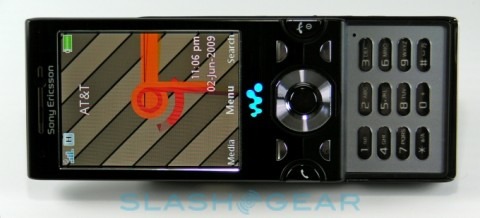 Sony Ericsson handsets are still relatively rare in the US market, and so Sony Electronics are stepping in as the official unlocked handset reseller for their cellular cousins. One of the first offerings is the W995a, a SIM-unlocked multimedia phone featuring an 8.1-megapixel camera and Walkman mediaplayer; it's available for pre-order starting today at SonyStyle.com and will be available in stores on July 6 for around $600.  Sony sent one over for SlashGear to check out.
The W995a is a 3G-enabled phone (850/1900/2100MHz UMTS/HSPA) that's geared towards folks seeking a premium multimedia experience. Primary functionality includes snapping photos and video, playing music and videos, or accessing the internet, and our first-impressions of the W995a is that it's a high-quality, compact way of doing all that.
The W995a is also equipped for WiFi access, and includes stereo Bluetooth (A2DP) support for use with wireless headphones. Bundled with the W995a there's a set of "premium" 3.5mm headphones, an 8GB Memory Stick Micro card (which wasn't provided in our review unit) and a USB connector cable.
The 2.6-inch QVGA display is gorgeous, even though it's LCD and not AMOLED like Sony's recent Walkman PMP, and there's plenty of sturdy and tactile metal used in building the casing and the buttons.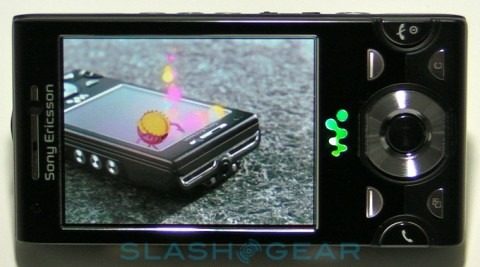 Sony Ericsson created the W995a for those who are up on the latest in mobile phone design, technology and feature sets and typically purchase unlocked phones for their added features and flexibility to switch phones whenever the latest and greatest is available.  Doing so through Sony themselves mean you're also getting a warranty and access to their Sony Ericsson partner network, just in case something goes wrong with the handset.
Sony Ericsson W995a unboxing and hands-on demo:
[vms 88a51f6ca8cfc1ac79b5]
Specifications:
PHOTOS: The W995a also takes dazzling pictures with an 8.1 Megapixel camera. In fact, the W995a camera can be used just like a stand-alone camera – holding it horizontally with the screen acting as the viewfinder. It is loaded with imaging features, such as dedicated camera buttons, Auto Focus, photo flash, image stabilization, a 16x digital zoom, Face Detection and BestPic® technologies and auto rotation of images. Geo-tagging and the pre-installed Google Maps™ application allow users to view the location where photos were taken; making it easy to forget that the W995a is also a phone.
MUSIC: Access music anywhere – the W995a is equipped with Walkman® player 3.0 and dedicated music buttons for a true portable music player experience. The Walkman player supports a variety of audio formats and even allows access to audio books and podcasts transferred from a compatible computer. The W995a also features a built-in stereo FM radio with presets.
SOUND: The clear audio experience enhances the way users listen to music with Clear Stereo technology for reduced left and right channel leakage, and Clear Bass technology for sharp, dynamic bass with minimal distortion. Sony's Media Go™ software lets owners of the W995a drag and drop videos, tracks and photos between the phone and a compatible PC, making it easier than ever to transfer, play and organize your digital entertainment. The Media Go™ software will even transcode video and music files to offer the best possible quality on the W995a. This software can also be found on Sony's PSP.