Sony Ericsson Vivaz official (again); gets hands-on play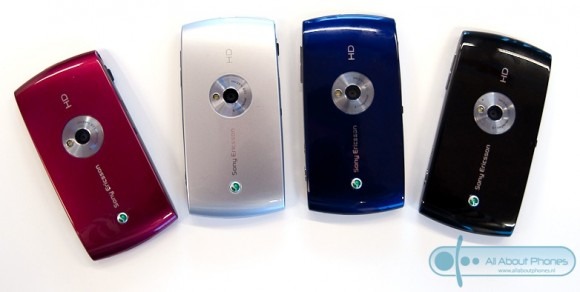 Having been prematurely revealed yesterday, Sony Ericsson have officially announced the Vivaz S60 smartphone, the device formerly known as the Kurara.  Expected to drop in Q1 2010, the Vivaz has an 8.1-megapixel autofocus camera capable of 720p HD video recording, 3G and WiFi.  A couple of European bloggers have already managed to grab some hands-on time with the phone.AllAboutPhones and GSMHelpdesk both have photosets and first impressions, and generally first-impressions are good.  The Vivaz is described as small and light, with a bright and responsive touchscreen and the UI from the Satio.  However it's also a fingerprint magnet, and we reckon those flaps covering ports and memory card slots could soon become frustrating.
Two versions of the Vivaz will be on offer, one with UMTS HSPA 900/2100 and the other with UMTS HSPA 850/1900/2100; both have quadband GSM support.  There'll also be four colors – Moon Silver, Cosmic Black, Galaxy Blue and Venus Ruby – no word on pricing at this point.
Press Release:
Catch Life in HD with Sony Ericsson Vivaz™

· Sony Ericsson Vivaz™ – the second installment in a new family of communication entertainment phones also introduces HD video capabilities into the portfolio

· New 'human curvature' design philosophy delivering beauty inside and out

· Coming to market in the first quarter of 2010

London – January 21 2010 – Sony Ericsson Vivaz™, announced today, follows on from the Xperia X10 announced in November 2009, and is the second phone in the new family of communication entertainment phones coming to market in the first half of 2010. Sony Ericsson Vivaz™ will come to market in Q1 2010.

With Sony Ericsson Vivaz™ communication truly becomes entertainment with high quality HD video allowing consumers to produce and broadcast their best experiences with the latest video capture and sharing features.

Capture – record spontaneous moments and memories in HD quality and crisp high resolution for a real-life video experience. The dedicated video key allows consumers to shoot video instantly with continuous auto focus for the perfect film every time.

View – review video content in the standby panel or online via Wi-Fi on the 3.2 inch widescreen

Share – upload via Wi-Fi onto YouTube™ and Picasa in high resolution while still using other features on the handset

The open platform also allows users to personalise their entertainment experience by downloading great applications through PlayNow™ and the Symbian™ Developer Community.

"User-generated content, especially video, is exploding on the web," said Lennard Hoornik, Head of Marketing, Sony Ericsson. "With Sony Ericsson Vivaz™, we have created a mobile phone that makes it easy to catch life in high quality video and upload that self expression onto the web to share with the world. Sony Ericsson Vivaz™ offers beauty inside and out with an open and intuitive user experience allowing consumers to capture, view and share their lives and spontaneity in HD quality."

Sony Ericsson Vivaz™ features the new design philosophy 'human curvature', first introduced with the Xperia X10, which will become a consistent feature of Sony Ericsson's portfolio going forward. Designed to mirror the shape of the human body, and at the same time delivering a precise and compelling phone interaction, Sony Ericsson Vivaz™ is instantly recognisable.

Sony Ericsson Vivaz™

· HD video – produce and broadcast your best experiences with the latest video capture and sharing features

· Social networking – easy access to social networks such as Facebook™ and Twitter

· 8.1 megapixel camera – capture life's moments in high quality

· Face and smile detection – a perfect picture every time

· Sony Ericsson Media Player

Sony Ericsson Vivaz™ supports UMTS HSPA 900/2100 and GSM GPRS/EDGE 850/900/1800/1900, UMTS HSPA 850/1900/2100 and EDGE 850/900/1800/1900.

Sony Ericsson Vivaz™ will be available in selected markets from Q1 in the colours Moon Silver, Cosmic Black, Galaxy Blue and Venus Ruby.

Log on to The Sony Ericsson Product Blog for more information: http://blogs.sonyericsson.com/products