Sony Ericsson LiveView is Bluetooth mini-display for Android 2.x phones [Video] [Updated]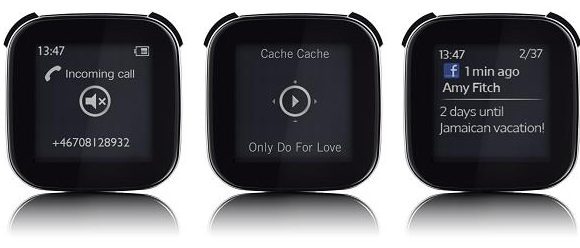 Sony Ericsson has announced a micro-display for Android 2.x smartphones, the LiveView, with a 1.3-inch 128 x 128 color OLED screen.  Hooking up to your phone via Bluetooth (with a roughly 10m range) and intended to be left on your desk, clipped to your bag strap or even worn, watch-style, on a wristband, the Sony Ericsson LiveView can show SMS, RSS, Twitter and Facebook updates, and be used to control music playback.
Video demo after the cut, plus Updated with phone compatibility information
Like the inPulse smartwatch it will also show incoming call details and a list of recent calls, and you can mute the ringer directly from the LiveView.  It'll also flag up calendar entries, show the date and time, and help you locate your phone.
The whole thing measures 3.5 x 3.5 x 1.1 cm and Sony Ericsson reckons the battery is good for up to four days of normal use.  It'll drop in Q4 2010 – price tba – along with a companion app to drive the functionality.
Update: We've just sifted through SE's LiveView specs, and the compatible devices list doesn't exactly fill us with confidence.  The Sony Ericsson XPERIA X10, X10 mini and X10 mini pro are all listed, unsurprisingly, but under "Other Brands" only the Samsung Galaxy S and HTC Desire are shown.  No word on whether this is just a partial list (and we suppose SE can't really be expected to test every possible device on the market) or a sign that the LiveView won't be quite as flexible as we hoped.
Update 2: Sony Ericsson tells us that the LiveView is "compatible with most Android devices" and that the list is just a partial one.
Press Release:
The window to your world with Sony Ericsson LiveView™

Sony Ericsson LiveView™ micro display with remote control functionality mirrors the activities of your mobile phone

London, September 28th 2010 – Today sees the announcement of the Sony Ericsson LiveView™. This innovative accessory is another step in Sony Ericsson's commitment to help consumers get the very best mobile phone experience through the open Android platform. The Sony Ericsson LiveView™ is part of the Sony Ericsson Extras portfolio – a division which offers a total product experience and enhanced mobile possibilities.

The Sony Ericsson LiveView™ uses Bluetooth™ connectivity to wirelessly pair up to a compatible handset and allows consumers to control the phone without taking it out of their pocket or handbag. Read text messages, see incoming calls and keep up to date with the latest news on Facebook™ and Twitter™.

The Sony Ericsson LiveView™ allows the user to control Sony Ericsson music features of the handset from the micro display, selecting tracks and controlling volume. The product also serves as a calendar reminder, displaying calendar events and other phone applications.

Whether on the go, in a meeting or out for dinner, the convenient Sony Ericsson LiveView™ can be clipped anywhere. Attached in a watch strap, on a keychain to a laptop, the micro display allows the user to incorporate the product into their lifestyle and always stay connected.

Mikael Henriksson, Head of creation and offering planning at Sony Ericsson Extras, said: "It is our ambition to be THE Communication Entertainment brand and this includes being the most open mobile phone brand on the market. We believe in openness and offering consumers a wide range of applications to choose from. We will continue to develop accessories to ensure we play a major and groundbreaking role in the market and design innovative and exciting accessories for all platforms, including Android."

Mikael Henriksson continued: "The Sony Ericsson LiveView™ is the first Sony Ericsson accessory to be compatible with the open Android™ platform which gives developers an opportunity to be creative and develop the next must-have innovative application."

Your window to your world with Sony Ericsson LiveView™

· Micro display device that mirrors the phone

· Tunes on the go – control music

· Don't miss out – get instant notification and read texts, Tweets and Facebook™ updates

· Incoming calls – see who is calling

· Make it mine – open platform for developers to add to the large collection of applications for a unique experience

To find Sony Ericsson LiveView™ enabled applications, Sony Ericsson has developed the Sony Ericsson LiveWare™ Manager application. It will scan Android™ Market for Sony Ericsson LiveView™ enabled applications and present them to the user. The Sony Ericsson LiveWare™ manager will be available from Android™ Market, or come preinstalled in phone bundles.

The Sony Ericsson LiveView™ will be available in stores from Q4, 2010.

The Sony Ericsson LiveView™ is also available in one of the Sony Ericsson Experience Packs. An 'Experience Pack' is a package of several related components that together create a great user experience in a certain area. The packages include mobile phone applications, accessories, services and much more. The "Sony Ericsson Fitness Pack" is aimed at sports and fitness enthusiasts. It contains a sport application for the Sony Ericsson LiveView™ – The SportyPal™ Pro – and a carrying case for your mobile phone – ideal for exercising.

The first 'Sony Ericsson Experience Pack" will be available in selected markets in Q4.

To see more about Sony Ericsson Extras visit: www.sonyericsson.com/LiveView

For more developer information visit: http//developer.sonyericsson.com