Sony E350 Walkman Series Unveiled, Due in September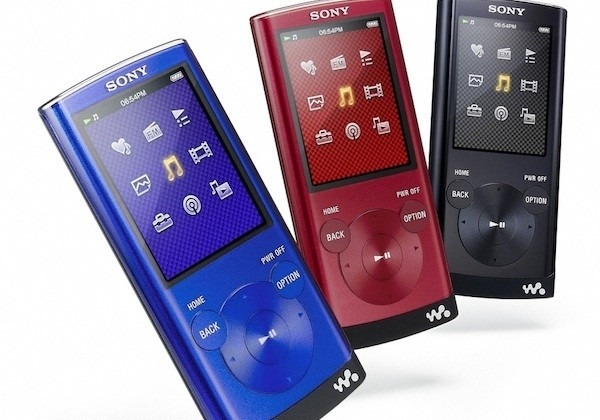 When it comes to music players, you either need a lot of space, or not that much at all. And all of that depends on how much music you listen to on a daily basis. If you're someone who just needs a few of your favorite tunes, of full albums, on your way to work, then perhaps the new E-series of Walkman from Sony will be your next purchase.
Sony just unvieled the new E350 Walkman, which is meant to be a quick solution to your music needs. It's a basic player, coming in black, red, and blue, and offering up storage space of either 4GB or 8GB. So obviously if you really enjoy music, and have a ton of it on your computer, then these little guys aren't going to be right for you.
The players should offer you up to 50 hours of music playback, and upwards of 10 hours of video playback. Unfortunately, these won't be available for purchase until September, so try not to get too excited just yet. As for pricing, it'll run you $70 for the 4GB, and $80 for the 8GB. Anyone want to take a guess as to which sells more? Press release is below, for your viewing pleasure.
Press Release
MEDIA ALERT: SONY INTRODUCES HIGH-QUALITY WALKMAN MP3 PLAYERS AT ATTRACTIVE PRICE POINTS
New Walkman® NWZ-E350 Series Video MP3 Players feature extended battery life, excellent sound quality and more
WHO: The new Sony Walkman models feature outstanding sound quality, advanced audio technologies, extreme battery life and more– all at affordable price points.
WHAT: It supports up to 50 hours of audio playback (mp3 files at 128 kbps) and 10 hours of supported video playback (WMV at 384 kbps). The unit utilizes Sony's own "Clear Audio" technologies, for clear, deep sound without distortion. The model also comes equipped with Content Transfer Software, enabling simple transfer of music and video files straight from a PC or iTunes™ library (not including DRM files).
The player features Sony's SenseMe™ technology, which automatically categorizes music tracks in a connected library into a variety of music channels and playlists. It also has a brand new user interface with such features as "Album Scroll" and "Scene Scroll", enabling quick and easy content navigation.
It includes a "Bookmark Function" so listeners can create playlists on-the-fly while listening through songs from their music library. Simply bookmark a song while it's playing to a custom, user-generated playlist. Supported audio formats for the new player include MP3, WMA (DRM), AAC (non-DRM) and linear PCM, and supported video format is WMV (DRM).
WHERE: The Sony E Series Walkman will be available next month for about $70 for a 4GB memory version, model NWZ-E353, and $80 for an 8 GB version, model NWZ-E354, at www.sonystyle.com, Sony Style retail stores and other authorized retailers nationwide.