iSuppli: Smartphones Will Beat Feature Phones By 2015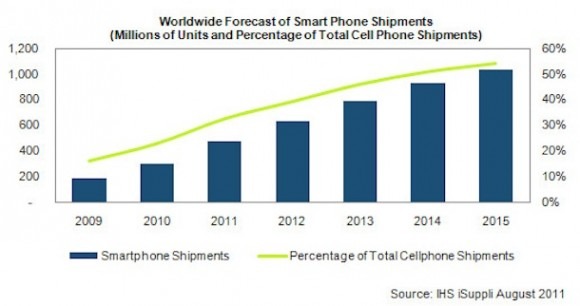 According to research firm IHS iSuppli, smartphone sales will finally beat dumb-phone or "feature phone" sales by 2015. Despite all the rage around the latest smartphones, feature phones still currently account for a majority of mobile phone sales with only 32.5 percent of sales this year expected to be for smartphones.
In their latest report, IHS iSuppli pegs global smartphone sales to reach 1.03 billion units in 2015, which is more than double the 478 million units in 2011 and will make its market share in 2015 jump to 54.4 percent. This pretty dramatic considering that in 2009, smartphones only accounted for 15.8 percent of mobile phone sales.
However, within the smartphone sector, the fastest growing category will be the low-end models that have more limited features with less processing power and memory. These low-end smartphone sales are expected to grow 115.4 percent from 2010 through 2015 compared to only 16.4 percent growth for mid-range and high-end smartphones. This difference is due to the more dramatic growth expected in emerging markets.
"With their affordable prices, low-end smart phones are attractive to first-time users and to consumers in emerging economies where subscriber levels are rising at the fastest rates of all regions of the world, such as China, India, South Asia and Africa," said Francis Sideco, senior principal analyst, wireless communications for IHS. "Low-end smart phones often are sold with inexpensive tiered data plans that target consumers who do not yet need full-featured services. This further reduces these phones' total cost of ownership, making them attractive to vast numbers of entry-level consumers."