Sony DSC-T2 - A whopping 4GB of internal memory!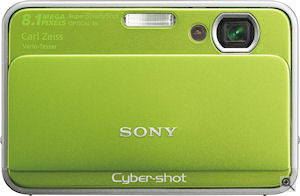 If you don't have a need for some massive zoom or a DSLR, there's no reason to get a digital camera that can't easily slip into your pocket. Sony has just announced their latest addition to their T-series that won't have any trouble sliding into a pocket.
This DSC-T2 has decent specs, 8MP, 3x optical zoom a 2.7" screen (touch panel). It has a lot of the features that you'd expect on a new Sony camera like their Super Steady Shot, Face  Detection and Smile Shutter that automatically snaps a picture as soon as your subject smiles.
What sets this camera apart from others is the inclusion of a whopping 4GB of internal storage. Most people don't have that much storage on all of their memory cards combined. I'm sure that many people would find this useful, especially as it will take quite a lot to fill up 4GB of space on a camera such as this. Personally, I hate dealing with built-in storage. It's much easier to just pop out the memory card and slide it into my card reader and be on my way. Thankfully Sony has chosen to include a Memory Stick Duo / PRO Duo card slot.
The DSC-T2 will be available in December of this year and will retail for $350. It will be available in blue, green, pink, black or white.
Sony announces DSC-T2 [via imagingresource]