Sony Digital Media Port for iPod - TDM-IP1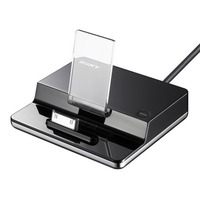 How many times did you hear Sony and iPod get along well? Almost never! Now Sony is swinging both ways and has announce the The TDM-IP1 Digital Media Port dock for iPod. The dock will allows iPod to connects to Sony Bravia home theatre system and also works as iPod charger.
The dock will support fourth and fifth generation iPods including iPod mini and nano.
You can pre-order the TDM-IP1 on Sony's website for $100 (Quite affordable). Sony is planning to ship the TDM-IP1 in May.
Sony slips out iPod dock for Bravia line [via electronista]