Sony DEV-5 and DEV-3 digital binoculars shoot Full HD video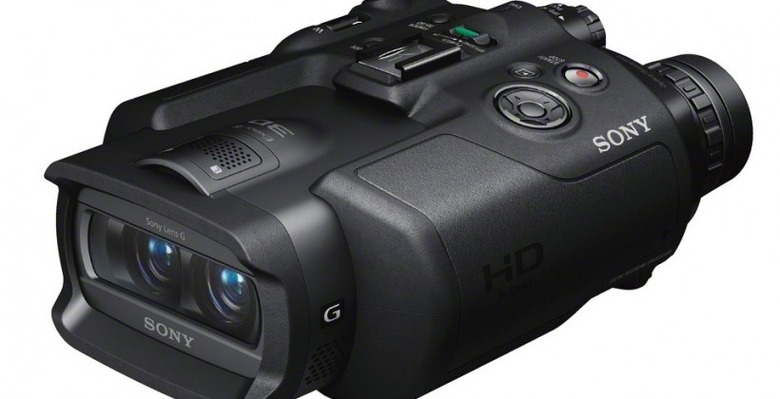 Sony has outed two sets of digital binoculars, the DEV-5 and DEV-3, that might look more at home on Hoth than they do in your twitcher hide. Promising Full HD video recording with stereo sound, as well as 3D recording for playback on a compatible HDTV, the two sets offer electronic autofocus – with manual override – as well as optical image stabilization.
The Sony DEV-5 supports up to 10x optical magnification in 2D movie mode, or a 20x digital mode, while the Sony DEV-3 lacks the digital zoom. Both support up to 5.4x magnification during 3D video recording. Each stores to a Memory Stick or SD/SDHC/SDXC card, with up to 2hrs 30 of 3D recording possible to a 32GB card, or anything from 2hrs 30 to 12hr 50 of 2D footage depending on quality mode.
Stills are shot at up to 7.1-megapixels, and the DEV-5 contains GPS to geotag them – and video – too. Connectivity includes mini HDMI, component, composite and S-video outputs, along with USB 2.0 audio in and audio out.
Set to hit shelves in November, the DEV-5 will be priced at $1,999 and the DEV-3 at $1,399. Expensive, perhaps, but maybe just the thing to finish off your Star Wars cosplay outfit.