Sony Dash gets update: battery, USB & new design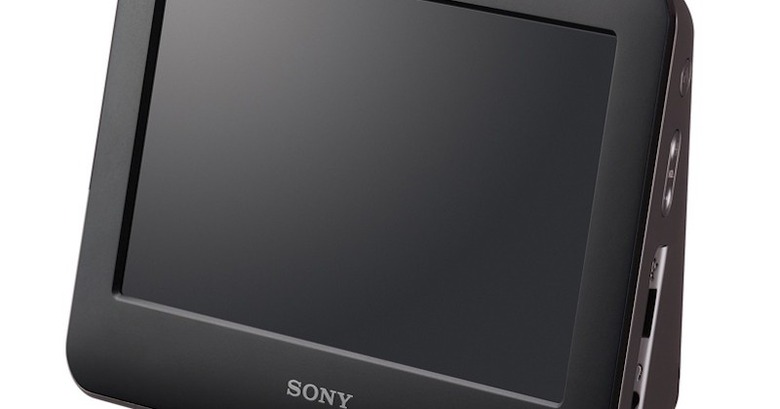 Sony has updated its Dash range of personal information monitors, with two new models for 2011. The existing Dash will remain on sale, now priced at $149, but the new models have a different casing design and one is available with an internal rechargeable battery.
There's also a USB port for hooking up external devices or storage media, as well as a built-in speaker. As before, the front is a 7-inch touchscreen, and the Chumby-powered software allows access to news, streaming media like SHOUTcast radio, and more. Both new Dash versions will go on sale this summer.
Press release:
SONY STRENGTHENS DASH LINEUP AT CES 2011
Introduces new model with rechargeable battery; reduces current Dash pricing

LAS VEGAS (CES Booth #14200), Jan. 5, 2011– Expanding upon its ability to deliver personalized, real-time information throughout the home, Sony today announced the introduction of two new Dash products, including a new portable, battery-powered model. Each will be available this summer.

The current Dash model, with many new features and services added since its launch last April, will continue to be sold nationwide and now priced at about $149.

Featuring a 7-inch color touch screen, Sony Dash products utilize a wireless Internet connection to deliver real-time bits of information from the Internet. Fully customizable, Dash allows users to create their own personal playlist from over 1,000 free apps to enjoy in the kitchen, bedroom, office, or any other room in the home.

"Transportability was the next logical step in the evolution of our Sony Dash product line," said Brennan Mullin, senior vice president of Sony's personal imaging and audio business. "With a battery, consumers have the freedom to bring Dash from room to room in their home, experiencing the benefits of glanceable, real-time tidbits of information in new and exciting ways."

Each of Sony's new Dash products utilize content from chumby industries, inc to provide access to over 1,000 free apps, including Facebook™, news, sports, webcams and more. Further, both models display up-to-date weather forecasts from AccuWeather™ and include the SHOUTcast™ Radio Directory, which features over 40,000 radio stations from around the world.

These versatile new Dash models can be activated and customized in minutes, without using a PC. Out of box setup is now quicker and easier than ever.

For those that would like to enjoy the latest photos of friends and family, popular photo sharing services like Photobucket™ and Sony's "Personal Space" application are easily accessible. Each new Dash also features a USB port for simple connection to external electronic devices or storage media, as well as a built-in speaker.

The new Sony Dash portable model will be offered in three colors including brown, slate blue, and orange. The second model, sans battery, will be offered in black.

Both models will be available this summer at www.sonystyle.com, Sony Style® retail stores and throughout the Sony Retailer Network nationwide. Pricing will be announced shortly.

Additionally, in order to provide consumers even greater options for customizing their Dash units, Sony will be supporting a Dash "App Development" promotion and contest for prospective app developers. More details coming soon.