Sony dash 7-inch internet tablet gets chumby webapps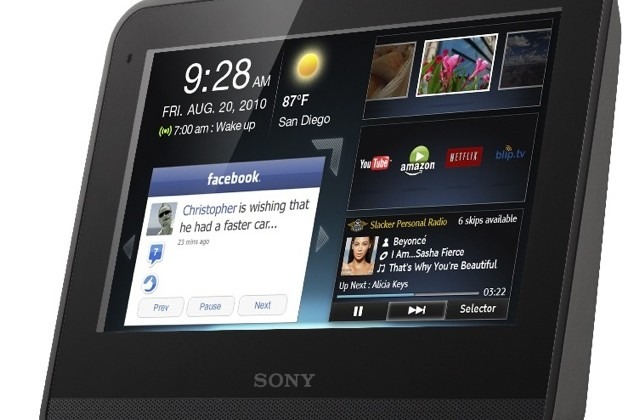 Sony have raised a few eyebrows by announcing their own tablet at CES 2010, though they're describing it as a "personal internet viewer".  The Sony dash has a 7-inch touchscreen, integrated stereo speakers and support for the 1,000+ of chumby applications already available online.  That means things like internet radio streaming, webcam viewing and basic games.
Sony preload YouTube, Pandora, Epicurious, Crackle, Livestrong and Blip.tv apps, and there's also a NAVTEQ app for traffic updates.  The dash can also show movie trailers from Sony's film studio, along with a shared family calendar management app.  Bizarrely, though, there's no battery, so wherever you use the dash you'll have to be near an AC outlet.
Connectivity includes WiFi, a USB port – which can be used to plug in external storage or PMPs – and a headphone jack, and there's an accelerometer for flipping between various orientations.  Interestingly, Sony have addressed the issue of multiple people in the household wanting to use the dash by allowing for various profiles each with their own presets and shortcuts.  The Sony dash will go on sale in April, priced at $199.
Press Release:
SONY'S NEW "DASHTM" PERSONAL APPLICATION VIEWER OFFERS PERSONALIZED WEB EXPERIENCE AT A GLANCE

New product provides instant access to news, weather, Internet radio and other applications

LAS VEGAS (CES Booth #14200), Jan. 6, 2010 –Sony confirmed its commitment to providing consumers with innovative networked products with the introduction of the new dash™ personal Internet viewer.

Featuring a vivid 7-inch color touch screen (measured diagonally) and access to over 1,000 free Internet apps, including news, calendars, weather, sports, social networking and more, dash utilizes an existing home wireless connection to continuously deliver Internet content to its viewers.

"In today's connected world, Sony continues to look for ways to help enhance consumers' entertainment experiences throughout the home" said Brennan Mullin, Sony Electronics' senior vice president of the personal imaging and audio business. "With dash, we're empowering consumers with a fun, interactive way to stay connected with their news, entertainment, interests and ultimately, their lives."

By bundling favorite pieces of the Internet together, dash provides always fresh, personalized content at a glance. The new product offers free access to more than 1,000 apps from chumby industries, inc. as well as the robust audio and video content from Sony's Bravia™ Internet video platform, including YouTube™, Pandora® Internet radio, Epicurious, Crackle, Livestrong™, Blip.tv and much more.

Other content includes a NAVTEQ® app for easily accessible traffic updates on a customized route, and a Cozi™ app for simple management and synching of family calendars. Further, Sony Music Entertainment and Sony Pictures Entertainment will be contributing exclusive dash apps for movie trailers, music videos, custom user themes and more, including an app from Dr. Oz offering daily health and exercise tips.

In addition, Sony dash can run multiple sources of content simultaneously, so for example, Internet radio can be enjoyed while browsing through online photo albums. Or, the alarm clock can be set to play selected online videos from music, sports and other news feeds. The device also allows users to choose apps either directly from the device or online through a PC, and new content for dash will continue to be added moving forward.

Within the device, an internal accelerometer supports vertical flip, allowing for two optional viewing angles: upright, ideal for a table or nightstand; and tilted, perfect for a countertop. It also supports multiple user profiles and channels, allowing several members of the household to create and maintain their own customized view of the Internet.

The dash personal Internet viewer also features built-in stereo speakers as well as a USB port for simple connection to a variety of external electronic devices. Additionally, a headphone output jack gives users the option to listen privately through headphones or through external speakers.

Sony's dash will be available this April for about $199 at www.sonystyle.com, Sony Style® retail stores and a variety of authorized dealers nationwide.