Sony Cyber-shot TX300V camera adds wireless charging & transfers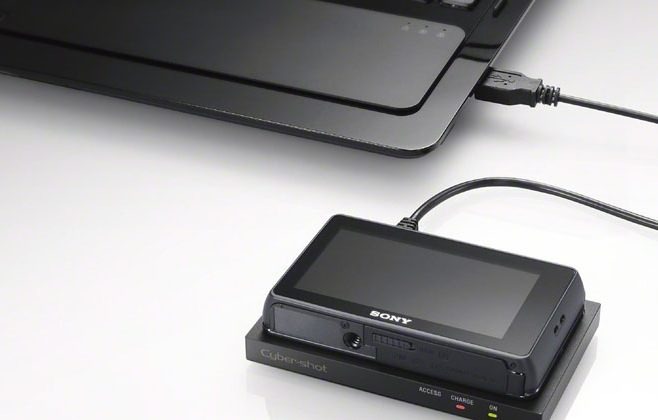 Sony has been keeping its best point-and-shoot cameras for the home market, quietly launching the Japan-only Cyber-shot TX300V, a wireless charging and content-offloading version of the recent Cyber-shot TX200V. Like the TX200V, the TX300V has an 18.2-megapixel backside-illuminated CMOS sensor and BIONZ processing, as well as integrated WiFi; however, Sony will also bundle a TransferJet-enabled "Multi-Cradle" dock, that simultaneously charges the camera and sucks out your photos.
We've seen Sony experiment with TransferJet before, launching memory cards with the wireless technology integrated as far back as 2010, though it's yet to see significant market penetration. Like NFC it only has a few centimeters range, but TransferJet boasts significantly higher speeds: 560 Mbit/s in theory, or around 375 Mbit/s in practice. Sony has coupled the system with an inductive charging plate, to rejuice the camera while it shuffles data.
The Multi-Cradle dock itself can be USB bus powered, and since the TX300V has GPS your photos are geotagged too. If you'd rather watch your images and video clips on a bigger screen, there's WiFi Direct support as well.
The wireless-equipped Cyber-shot will go on sale March 9, with Japanese pricing still to be confirmed; Sony estimates the camera will be around 50,000 yen ($409) however. Unfortunately there are apparently no current plans to launch the TX300V in any other markets.
[via Engadget]