Sony confirms no UMD transfer for PS Vita buyers in the US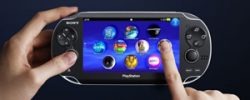 Sony's PS Vita launched to some decently strong sales in Japan back during the holiday season of 2011. Japanese sales of the portable console quickly fell off and are now below 20,000 a week. The Vita is set to launch in the US and if you're hoping to be a get your old UMD PSP games over to the Vita, Sony has announced really bad news. There will be no UMD Passport program in the United States like the program Sony operates in Japan.
Japanese gamers with a large collection of UMD games can tie those games to their PSN accounts and then downloaded digital copy of the same game to the Vita for roughly $13. That didn't seem like a very good deal for a game you already own when I first heard about the UMD Passport. Bt's infinitely better than just being SOL as gamers in the US are. I've seriously begun to think Sony is content to shoot itself in the foot in the portable gaming market.
In short, if you have a large library of UMD games that you enjoy playing on the current PSP, you better keep the PSP around because that is the only way you'll be playing them short of paying full price and hoping they're available as a digital download on the Vita. What do you think about this move? Will the lack of the ability to transfer UMD games over mean you're no longer in the market for PS Vita?
[via EscapistMagazine]