Sony BRAVIA DAV-F200 home cinema system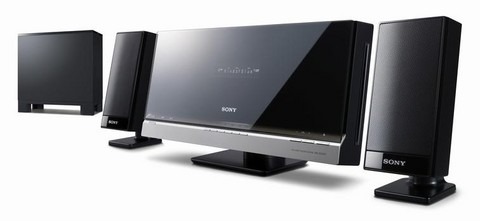 Sony have unveiled their latest all-in-one home cinema system, the BRAVIA DAV-F200, and whether or not you like Japanese company's products you have to admit they have a knack for design.  Consisting of a glass-fronted, wall-mountable control center with slot-load DVD, 1080p upscaling, a USB port for plugging in memory sticks or PMPs containing MP3s and Sony's own DMPORT expansion slot.  The latter can be outfitted with Bluetooth or WiFi adaptors, among other things, allowing the DAV-F200 to stream music from a wireless device.
405W of power are shared between the two stereo speakers and separate subwoofer, capable of creating pseudo-surround sound.  As well as DVDs and CDs, the DAV-F200 is compatible with MP3, Windows Media Audio, DivX and JPEG formats.  A range of PMP docks are available for the DMPORT, including models such as the iPod, Sony's own Walkman range, Sony Ericsson Walkman phones and more.
If you're pairing the system with a BRAVIA TV, Sony's inclusion of BRAVIA Sync means everything can be controlled with just one remote and connected with a single HDMI cable.  Hitting the power button automatically turns on both the screen and the DAV-F200 and automatically sets the appropriate input, while everything is put onto standby with another button press.  Other external sources can be connected via optical/coaxial digital and analogue inputs.
The BRAVIA DAV-F200 will be available in June.