Sony Announces "Ultimate HD" Workstation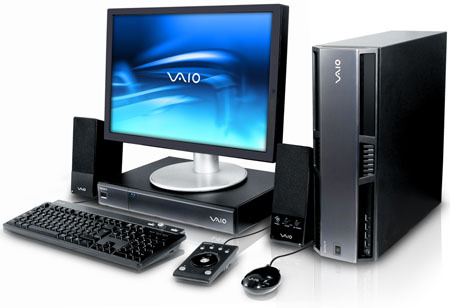 Sony have announced their new "Ultimate HD" workstation. As you may have guessed, they are aiming this desktop at editing HD video; you can probably also guess that it doesn't come cheap.
The new VAIO RM1N is powered by an Intel Core 2 Quad Q6600, 2GB RAM and a GeForce 8600 GTS. You'll get a total of 1TB of storage (2x 500GB HDD) Honestly, I'm wondering if they made the right move here. Only 1TB of storage? If this is truly the "Ultimate HD" workstation you're going to need a lot more room for storage. Thankfully they have included four empty drive bays for connecting SATA hard drives.
What is very interesting is that the unit is broken up into two parts. The main unit houses the motherboard and accompanying parts. The other piece has the hard drives and optical storage which would of course feature a Blu-ray burner.  Apparently one section is meant to be kept on your desk, the other under it.
You will also get a specially-designed jog controller that works with Adobe Premiere Pro 2.0, which is included. You will also get WinDVD BD and Click to DVD BD for handling all of your Blu-ray needs. Other features include a whopping 10 USB ports and three i.Link (Firewire) ports that are front-mounted.
The RM1N will be available iminently, with a MRSP of £2,500 ($4972)
[via press release]