Sony announces new slim external batteries for mobile devices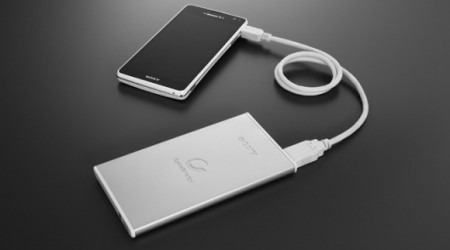 When we're on the go, we really can't afford to carry around bulky equipment all the time; our pockets and bags can only hold so much. Sony agrees, which is why they've announced a new line of external batteries that are small and super thin. They're the size of a regular smartphone and come in capacities from 3500 mAh to 7000 mAh.
The external batteries use Sony's thin "laminate" technology, which involves laminating battery components together in order to cut down on weight and materials. It also results in super-thin batteries. The company's 7000 mAh model will be just a half-inch thick, and will measure 2.8-inches by 5.1-inches, making it a perfect device to easily slip in and out of a pocket.
Sony is marketing these new external batteries as being roughly the same size as smartphones and tablets, making the two easier to store together. They'll even have a smaller model that will hold 3500 mAh, as well as small cylinder-shaped 2000 mAh batteries. We're not sure exactly what size the cylinder batteries will be, but you can be sure that they'll be pretty small.
If you're wondering how much juice these batteries will supply to your mobile devices, the iPhone 5 is said to have a 1440 mAh battery and Samsung's Galaxy S3 has a 2100 mAh battery, so expect to get at least a full charge and then some out of the cheapest external battery models. Sony says the 3500 mAh version can be reused around 500 times and can charge a typical smartphone in about 130 minutes. The batteries can be recharged in 8 hours by USB and 4 hours by a wall outlet.
These external batteries will be available in Japan first starting October 13, with more models to arrive on November 14. Prices will range from 2,300 yen ($30) to 7,000 yen ($90) depending on the capacity. Sony will launch the batteries globally, but launch dates and prices have yet to be determined.
[via TechHive]