Sony And Microsoft Cloud Gaming Deal Struck In Shock To Gamer Universe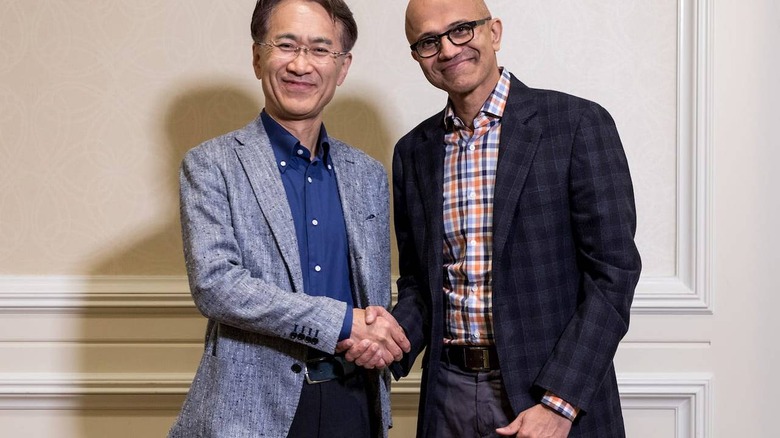 Microsoft and Sony are pretty fierce competitors in the gaming space, so the mere suggestion that they'd partner for anything gaming related is certainly a strange one. Yet here we are, with both companies announcing just that today. Sony and Microsoft have revealed their intention to "collaborate on new cloud-based solutions for gaming experiences and AI solutions," though this partnership is still very clearly in its early stages.
Still, the scope of it seems to be pretty large. The statement released today says that they'll "explore joint development of future cloud solutions in Microsoft Azure" as those solutions apply to their respective streaming services. Microsoft is looking to break into game streaming with Project xCloud, while Sony of course already offers game streaming through PlayStation Now.
So, it looks Microsoft and Sony will work together to make both platforms better. In a statement published to Microsoft's website, the companies say that this initiative in particular will include "building better development platforms for the content creator community," so at some point down the road, we might hear about Sony and Microsoft working together to improve platforms like Mixer.
This partnership doesn't end at cloud gaming, though, as the two will also work together on semiconductors and to bolster AI offerings. Microsoft plans to pair its Azure AI with Sony's image processors for cloud and edge computing solutions for enterprise, while they're also looking to integrate Microsoft's AI platforms and Sony's consumer products.
Again, this partnership is still in its early phases, so there aren't a ton of specifics on what might come of it. Regardless of where it will lead, it's fascinating that both are joining forces in the first place. Microsoft ends the announcement by saying that the two companies will share more information as it's available, so we'll keep our eyes peeled for that.