Sony Alpha NEX-F3: The hands-on round-up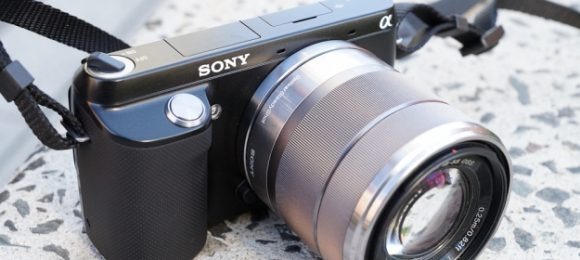 Sony held an event this weekend to showcase its recently announced NEX-F3, so we're hearing a lot of how the device looks and feels and whether or not it's going to be a formidable continuation to Sony's high-end camera line. Here's a look at what everyone is saying about the new model.Engadget called the F3's grip "a cross between the NEX-5 and NEX-7" because the shutter button is on the downward sloping portion on top of the grip, making it ergonomically friendly. However, it also noted, "The F3's screen can't tilt downward as far as the C3's, which makes it more difficult to frame overhead shots." In summary, though, Engadget writes, "Anyone who's used the NEX cameras will instantly feel at home with the F3."Pop Photo pointed out that the NEX-F3's tilting LCD screen is the first of its kind for the NEX product line. Meanwhile, Cnet praised the camera for its nice low-to-mid range sensitivity pictures and the automated self-portrait mode, but noted the LCD can be difficult to view in bright light, and the positioning of the SD car slot is not ideal for those using a tripod.
The Alpha NEX-F3 has Sony's proprietary Exmor APS HD CMOS and has a 16.1-megapixel sensor. It has 180-degree tilting functionality and the ability to record in 1080p/24 video. It has an 18-55mm lens as well as a pop-up flash in the body. The NEX-F3 will be available some time next month, with a retail price point of $600.