SONY Alpha 700 gets Firmware update, V4 and software application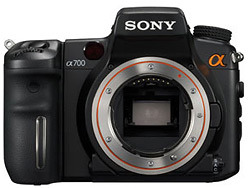 When Sony first launched the 12MP A700 Digital SLR, the high ISO noise level was criticized by the Alpha fans. It has improved significantly thanks to the manufacturer's continuing effort and commitment via firmware updates. Today, they have released yet another major firmware and software updates to improve and add number of changes to the A700.
DownloadFirmware v4
choice to select auto exposure bracketing (single & continuous) with 3 shots in 2 EV steps has been added.
The choice to turn [Off] the High ISO NR feature has been added.
Improvement of the image quality in high ISO setting.
Improvement of the auto white balance and D-Range Optimizer performance.
Improvement of reliability for communication between camera body and vertical grip.
Application Software-Sony Image Data Suite
Improves ease of use by unifying pallets and positioning of toll bar buttons
Increases speed of display rendering
Adds Peripheral Illumination compensation
Improves effectiveness of Dynamic Range Optimizer
Image Data Lightbox SR (v2.0)
Increases speed of display rendering
Adds settings of color label and display sort by camera which captured image
Remote Camera Control (v2.0 – only applies to Alpha700)
Adds Interval Shooting function (Windows only)
Adds the choice off +/-2.0EV, 3 shot EV Bracketing (available in both single and continuous modes)
[via dpr]