Sony a57 DSLR Camera revealed and detailed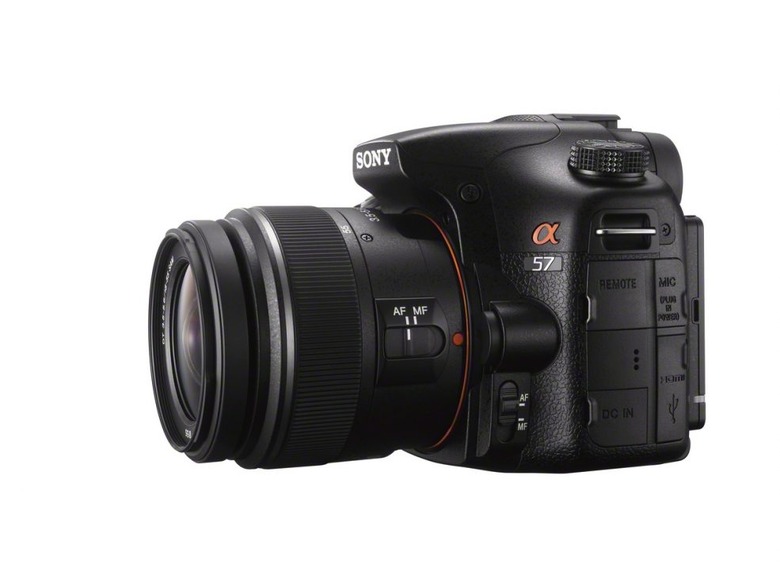 This week Sony have revealed the a57 A-mount camera with translucent mirror technology and a set of advanced features set to impress mainstream SLR users across the market. This camera brings pro-level performance to the masses with 12 fps shooting, Full HD (60p) Video Capture, and a lovely high-resolution Tru-Finder electronic viewfinder. This camera is meant to be the direct successor of the Sony a55 camera and is set to take on the DSLR user masses immediately upon release.
This new interchangeable lens camera will be out in April of this year complete with an 18-55mm kit zoom lens for a total of $800 USD (that's model SLT-A57K) or just as a body without lens for "about $700" as Sony notes (that being model SLT-A57). You'll also have the option of adding on a brand new battery-powered LED video light starting with the release of this model for about $250 from Sony as well, this model being HVL-LE1 and recommended by Sony for this camera specifically.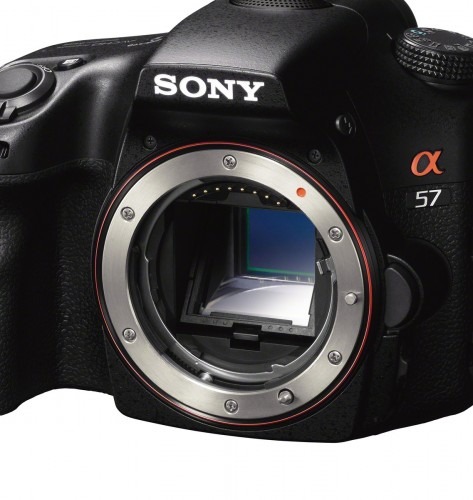 The camera is built with a fabulous 16.1 effective megapixel Exmor APS HD CMOS sensor teamed up with the newest BIONZ engine on the market. This processor is the same one found in Sony's flagship a77 and high-end a65 cameras, and promises you a sensitivity range of ISO 100-16,000. The camera also has 2x Clear Image Zoom for all your digital zoom needs, using Sony's "By Pixel Super Resolution Technology" to retain full pixel resolution even after images are cropped and zoomed. It's like magic!
SGNL by Sony brings a video of the camera being used here!
This model has the ability to shoot images, again, at 12 frames per second as well as Full HD video at 60p, 60i, or 24p frame rates, the former achieved with the camera's new Tele-zoom Continuous Advance Priority AE mode. With this mode you're also able to maintain continuous auto focus as well as auto exposure with fixed aperture – this fixed mode allows you either f/3.5 or the maximum aperture of whichever lens you're using, whichever is smaller. The image size you'll be getting in this mode is right around 8.4 megapixels.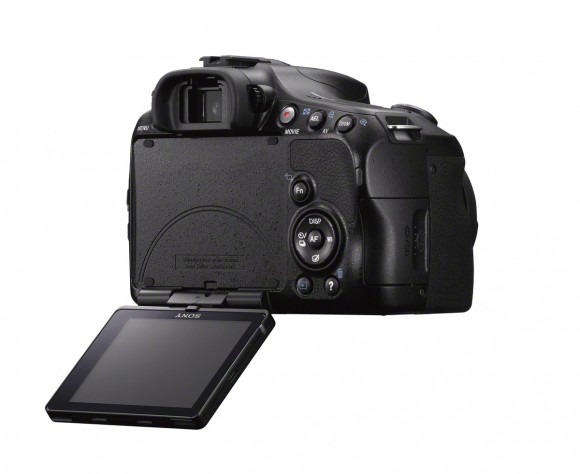 For your Full HD movies you'll be working with AVCHD Version 2.0 (Progressive) format so you'll be able to get your Full HD quality at a fabulous 60p frame rate. You can also shoot at 24p for a "rich, cinematic look" if you're that kind of shooter – then of course you've got a cool set of P/A/S/M shooting modes for all your "creative expression," as it were.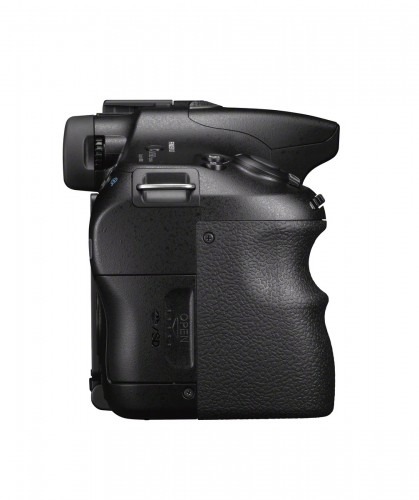 To capture fantastic photos galore you'll be using the same 15-point AF system that the a65 uses, this giving you TTL phase detection autofocus for those times you just really need to get on top of that focused shot on the double. Object Tracking AF is bumped up so you'll get perfect facial focus whenever you're in the right position, and the biggest bump is here as well: Auto Portrait Framing. Taking your photos after they're shot and checking out how it'd best be cut down to create a perfect composition, Auto Portrait Framing uses face detection and the compositional "rule of thirds" you may have heard of in photography school and trims your photo down, keeping the original on file as well.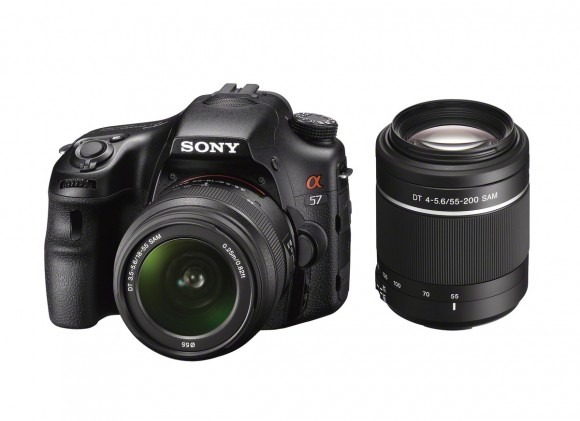 You'll be having all this fun with your gigantically lovely Tru-Finder electronic viewfinder. This sweet little beast give you ultra-detailed 1440k dot resolution and, again, a 100% field of view. You can also choose to use your angle-adjustable 7.5 cm (3.0-type) Xtra Fine LCD display as well if a viewfinder doesn't strike your fancy. Seem like the setup for you? All of this will be available in April of 2012 – can't wait!