Sony 4K Smart TVs hit Android TV hard this year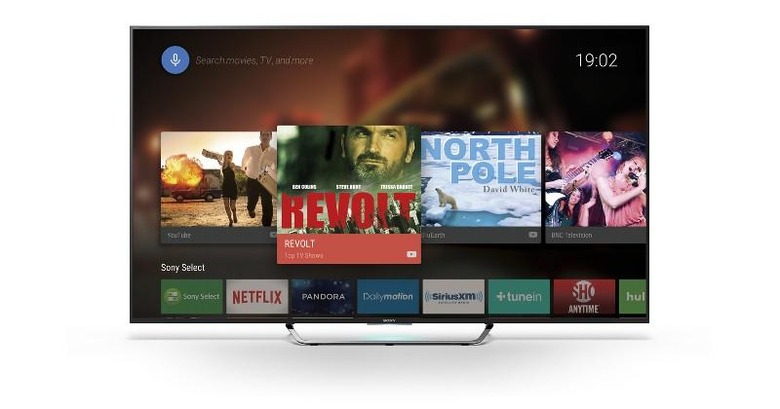 Sony is indeed taking the lead in the Android TV push. In fact, all its 4K Smart TVs unveiled here at CES 2015, and some of its HD line, runs Android TV to deliver apps and games in addition to live TV broadcast and video streaming. But Google's TV platform isn't the only highlight of this latest batch of 4K Smart TVs. Also making its debut is Sony's new 4K Processor X1 that promises to deliver the best image quality, no matter the original resolution of the content.
The X1 processor does this by doing a real-time image analysis of the input video signal and attempts to upscale the output to the best possible quality, depending on the amount of information the original holds. The X1 focuses on three aspects of the image, clarity, color, and contrast, so that even if your video is just in HD or SD, they will still come up clean and clear on these new BRAVIA TVs. And it isn't just video that is upscaled. Even audio is upscaled to hi-res audio, giving higher than CD quality audio for a better listening experience.
On the Android TV front, you get that familiar experience of your smartphone or tablet right on the big screen. In addition to Google's digital content, from apps to movies, these TV's are Google Cast Ready, ready to receive any content you can throw at it from your mobile device. The built-in microphone on the new Remote lets you use Google's Voice Control to search and control the TV from the comfort of your couch. And speaking of remotes, the new touch-pad Remote offers Sony's convenient One-Flick operation that removes the tediousness of maniacally pushing buttons just to get to the content or app that you want.
Of the entire new BRAVIA Smart TV line, Sony is boasting about the X90C line the most. These TV's, the KD-65X9005C and KD-55X9005C models specifically, flaunt an Ultra Slim profile of 4.9 mm, even thinner than Sony's thinnest Xperia mobile device. Perhaps one rather interesting, if not puzzling, part of Sony's new TVs is that they are driven by a still unnamed MediaTek chip inside, which some might find to be a curious choice.
Sony's new BRAVIA 4K TV line will be available starting February and starting in Europe.
X94C [KD-75X9405C]
X93C [KD-65X9305C, KD-55X9305C]
Ultra Slim X90C [KD-65X9005C, KD-55X9005C]
X85C [KD-75X8505C, KD-65X8505C, KD-55X8505C]
X83C [KD-49X8305C, KD-43X8305C]