Sonos PLAYBAR Review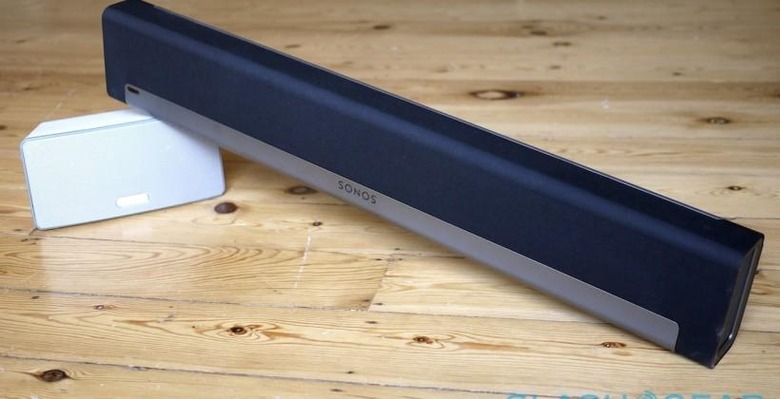 Movie and TV audio for music lovers: that's how Sonos describes its new PLAYBAR, the first product from the whole-home audio company to tackle sound that comes with moving pictures, rather than audio for its own sake. Speaker-bars aren't a new concept, but Sonos is aiming to bring some of its near-legendary ease of use to the segment; and, since this is a Sonos speaker after all, it works as a node in your streaming music system too. Perfect extension of the core brand, or a distracting dilution? Read on for the full SlashGear review.
Hardware
There are a couple of key form-factor elements you know you're getting with a speaker-bar, though Sonos does try to put its own spin on the concept. They're generally long and narrow, intended to go under or above your TV, and to separate the left and right speakers by as much as possible to broaden the sound stage.
So, the PLAYBAR Is a reasonably handsome slab of matte silver aluminum and black fabric, fairly heavy at 11.9lbs (though a single person can still lift it and move it around), and with holes on the back integrated into rubber feet for either wall or table positioning. It's not as long as some speaker-bars we've seen, at 35.43 inches across, but it's fairly broad at 3.35 x 5.51 inches. Physical controls are limited to the familiar cluster of Sonos buttons – mute, volume up, volume down; all flanking a white status LED – on one end of the bar.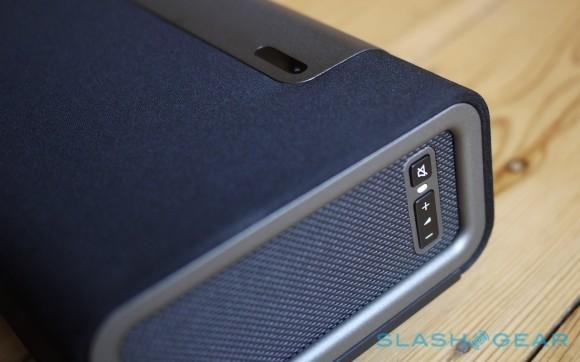 On the back, in a recessed panel, are the ports: two ethernet connections, an optical audio input, and a power socket. Conspicuous by its absence is HDMI – Sonos tells us it views the TV itself as the hub for multimedia control, and so the PLAYBAR Is intended to focus solely on audio not source switching duties – as well as the aux-in analog input you get on the PLAY:5 speaker. In the box, Sonos includes a power cable, a flat ethernet cable, and an optical audio cable. All remote duties are handled by the usual Sonos apps.
Inside, there are a total of nine speakers, each with its own Class-D digital amplifier. Three 1-inch titanium dome tweeters are spread between the outer edges and the center, while six 3.15-inch aluminum cone midrange speakers fill the remaining space; there's no onboard subwoofer, though you can wireless connect a Sonos SUB if you want more low-end.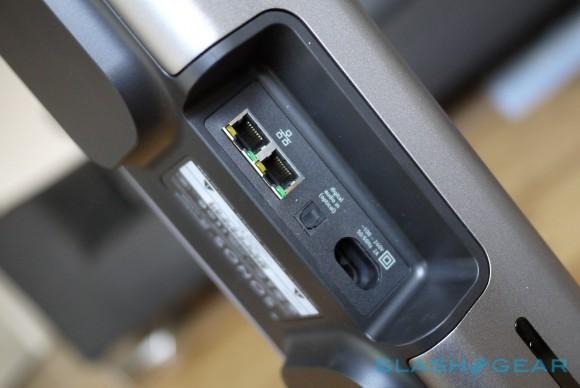 That's not the only cleverness inside, however. Sonos has fitted the PLAYBAR with an accelerometer so that it knows which way up it's placed: that means it can automatically figure out if it's on the wall – with the "top" facing out – or sitting flat, and adjust the equaliser settings automatically. There's also a pass-through IR system, which repeats your TV remote's commands in case the TV's own IR receiver is blocked in some way. The PLAYBAR can also learn the volume commands from your existing remote, so that you don't have to dig into the app just to tweak the audio when you're in the middle of a film.
Setup and Use
Sonos has built a reputation around not only great audio quality but ease of setup, and the PLAYBAR is no different. You'll need to be using the latest versions of the apps for iOS or Android since they add support for the PLAYBAR's unique features, but otherwise adding it – whether to a new or an existing Sonos system – is a matter of hitting the mute and volume up buttons on the bar itself and waiting for the app to recognize it. That can be done over a WiFi connection (as straightforward as plugging in power and the TV audio cable, though you'll need to have at least one Sonos speaker or BRIDGE hooked up to your router via ethernet) or with a wired connection to your router. The second ethernet port can be used to pass through the internet connection to another device.
Like a regular Sonos speaker, you can assign a name (such as "TV Room") to the zone; however, there are also some new steps to the setup. Starting with the TV turned off, you can first optionally add a SUB to the PLAYBAR, and/or a pair of PLAY:3 units for use as rear surround speakers. If you choose to, they'll still be available for regular music duty, only they'll also be preset as the default home cinema set too.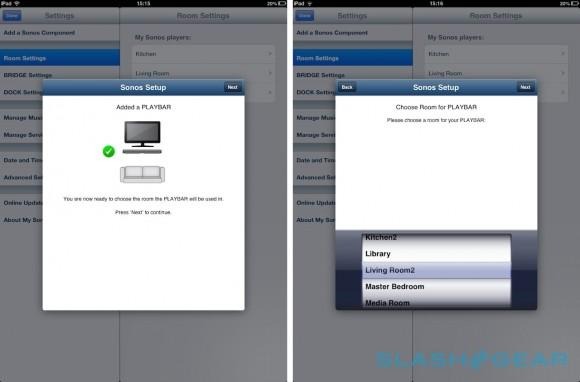 After that it's a case of turning on the TV and waiting for the PLAYBAR to start piping the audio through. Sonos recommends digging into your TV's settings to disable its onboard speakers, and then guides you through registering the remote you'll be using to adjust volume – probably the TV remote, but it could be for your Blu-ray player or cable box. In our test system, that was as simple as pressing the volume up button on the remote, and the PLAYBAR automatically recognized its volume and mute controls from that point on.
If your remote isn't recognized, however, Sonos guides you through teaching the commands to the PLAYBAR, a process which takes about nine button presses. Cleverly, the speaker-bar's new found skills aren't kept to itself: it sends the new settings back to Sonos' servers, where they're bundled into the firmware catalog for future PLAYBAR units to choose from. That all happens transparently to the user, of course.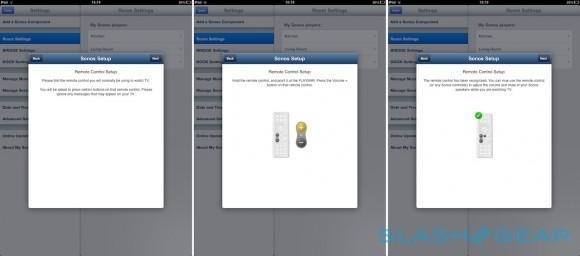 Just as setup is different, so there are some new options in the settings page once you've got your PLAYBAR hooked up. There are still bass and treble adjustment sliders, and a "loudness" switch, in the equalization page, but not the balance control you have on standalone PLAY zones; however, you do get a new audio delay control, which helps match up lip-syncing. We didn't have to make any adjustments to that ourselves.
You can turn off the IR signal light and the IR repeater, if you prefer, as well as run through the remote control setup again. There's also the autoplay options: whether the PLAYBAR will automatically switch over to the optical audio input when the TV starts making sounds (rather than continuing to play music) and, separately, whether the PLAYBAR automatically leaves whatever group you have it set to when autoplay happens.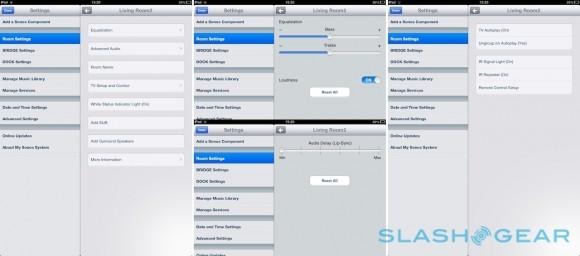 Sonos has been clever with how it manages connectivity and shared use, given that the PLAYBAR will likely be relied upon both as a TV speaker but also as a music system. Inside, there's not one but two wireless chips: one 2.4GHz chip for hooking up to the regular SONOSNet 2.0 peer-to-peer network joining all PLAY units together, and a second 5GHz radio for directly connecting with a SUB and/or PLAY:3 pair for home cinema duties (though not PLAY:5 speakers, since they lack the 5GHz support).
By including this second chip, Sonos avoids any latency introduced by piping rear audio or bass track data through your home network, as would normally be the case for multiple PLAY speakers. It's vital when you're dealing with multiple speakers playing the same content, since any lag will be instantly noticeable. We set up a pair of PLAY:3 speakers for use as the rear surround set, and could observe no delays in the soundtrack.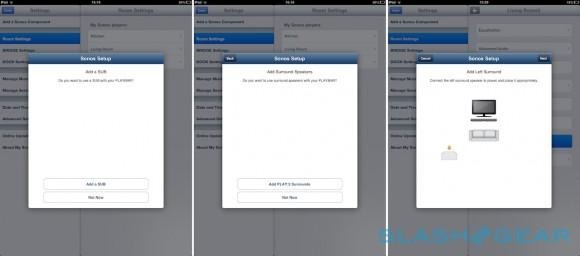 As long as autoplay is turned on, when you turn on your TV the PLAYBAR automatically switches over to that source. That includes leaving any group you have it currently playing music in. If you subsequently try to add the PLAYBAR to a PLAY speaker group, or add tracks to its playlist via the app, it will pop up a message warning that doing so will stop the TV audio in that zone, and ask if you actually want to do that. One small frustration was that the PLAYBAR didn't subsequently rejoin the music group once we stopped using it with the TV; we had to manually add it back in.
Performance
Simple setup would be for naught if the PLAYBAR didn't sound any good, but happily that's not the case. Sonos has tuned the speaker-bar in two distinct ways, it says, for music and for TV/movies, and we were impressed by performance in both.
For music, the PLAYBAR offers much of the experience we're familiar with from the PLAY:3 and PLAY:5, only with added grunt. The natural balance of treble and bass are very similar to those of the smaller PLAY units, which helps it slot neatly into a multi-speaker system, but there's a healthy bump in power that meant the PLAYBAR could easily match a PLAY:3 set to roughly half volume, while the bar was dawdling down at less than 25-percent.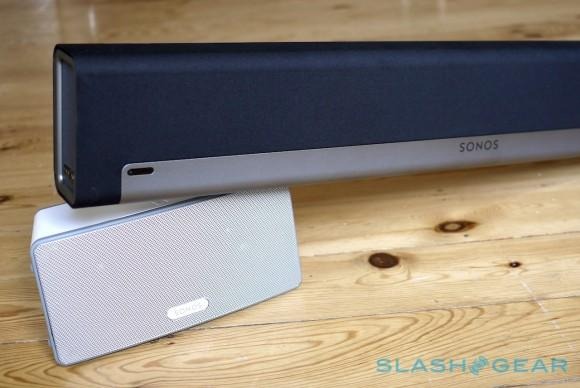 Midrange sounds have the warmth and breadth that we're used to from the company's kit, while trebles have an eager sparkle that makes vocal tracks shine. Complex instrumentals didn't get lost, with the PLAYBAR's dynamic EQ automatically keeping things spread across the bar in a way belies the all-in-one nature of the system. Even at high volume levels, there was no buzzing or rattling from the PLAYBAR itself, and there's a welcome absence of distortion even up to neighbor-infuriating levels.
If there's any criticism to be made, it's one that most speaker-bars share: bass tends to come in third compared to treble and mids. That's definitely not to say the PLAYBAR disappoints in the low-end – it's tight and aggressive, and probably more than sufficient if you're living in an apartment – but those looking for the full audio experience will probably be tempted to throw in a SUB, whereupon they'll find great lashings of bass that manages both precision and exuberance.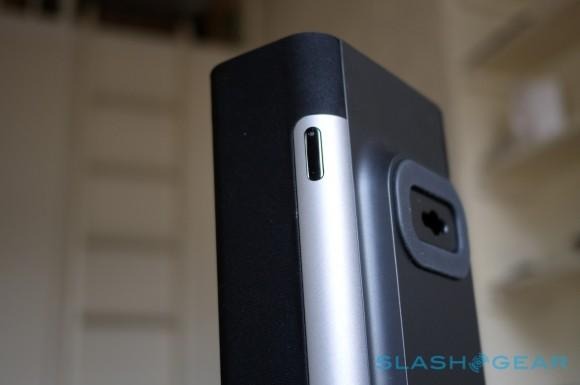 It's movies where that could be most useful, though the PLAYBAR does very well on its own for TV sound. The stereo separation and the 45-degree angle of the speakers means left and right audio is clearly distinguished, the PLAYBAR using a combination of positioning and EQ to bounce audio from the walls. In fact, the onboard computer is crunching 24m calculations a second, Sonos says, to figure out how each sound wave created by each of the nine cones interacts, adding and subtracting those waves to emphasize explosions, make musical soundtracks more enveloping, and allow speech to pierce through everything.
Throw in a couple of rear PLAY:3 speakers, meanwhile, and the experience is all the more impressive. The PLAYBAR is tremendously capable, turning its hand to a variety of movie styles. The rumbles and ominous groans of Prometheus were rich and hauntingly sonorous, while The Dark Knight and Transformers put the surround system through its paces and showed how precise the rear set could be. We noticed no issues with lag or delay.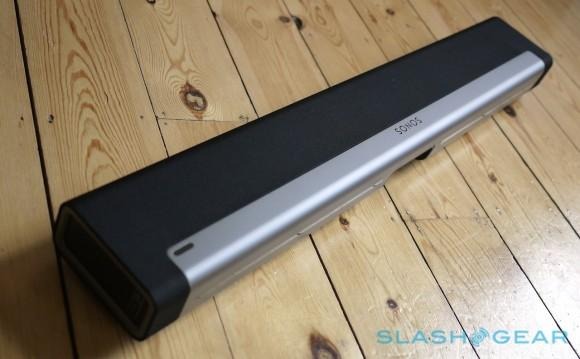 All that DSP means Sonos can add a couple of new features you wouldn't normally get on a PLAY speaker: Night Sound and Speech Enhancement. Toggled on or off through new buttons in the "Now Playing" section of the controller app, Night Sound aims to make the PLAYBAR more accommodating to those who like to watch movies while everyone else is asleep. In short, it compresses the audio, dampening louder sounds like explosions and gunfire, and enhancing quieter sounds like speech, so that all can be heard without forcing you to hover over the volume control like a hawk.
It works surprisingly well, though you'll obviously miss out on some of the original zeal of the soundtrack. As for Speech Enhancement, that operates in a similar way, though leaves the louder sounds untouched. Instead, it simply emphasizes the frequency range of the human voice, lifting speech out of the rest of the audio.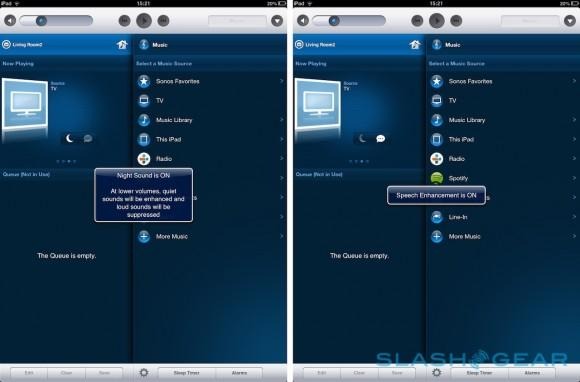 Since it's a Sonos system, there are some less obvious, but no less neat, things you can do. By grouping the PLAYBAR with one or more other PLAY speakers, for instance, you can pipe your TV's audio around the home: useful if you want to keep an ear on the news or a concert you've been watching. Alternatively, you could start a slideshow on the TV, and accompany it with a playlist of Sonos-streamed audio, whether from your own collection, from internet radio stations, or from on-demand services like Spotify and Pandora.
Wrap-Up
Sonos took its time creating the PLAYBAR, and that consideration shows both in how it sounds and how easy it is to setup and use. Certainly, at $699/£599/€699 it's expensive when compared to a regular speaker-bar. You can find those for a couple of hundred, after all, though their audio performance may not match up to the PLAYBAR's beautifully balanced sound. Still, you're not just getting one product, but two: a speaker-bar for your TV and another zone in your Sonos system, certainly more than equivalent to a $399 PLAY:5.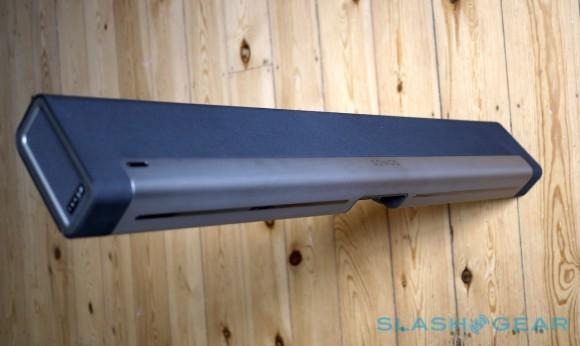 The magic of the PLAYBAR is how straightforward it is, and how few compromises it demands. You don't need to be familiar with Sonos to actually use it: in fact, once you've set it up, you could feasibly never turn on the Sonos app again, and merely use your regular TV remote. The only messages in the app are concerned with pairing the PLAYBAR back in with music groups; TV playback takes priority. That makes it highly family-friendly, essential if you don't want a less-technical partner to get frustrated.
Still, our own experience with Sonos is that its simplicity means that even the most gadget-averse soon come to recognize its charms, and the PLAYBAR has that appeal in spades. The audio performance for both music and movies is excellent, and even if you don't pair it up with rear PLAY:3 speakers and a SUB (which can certainly get expensive, at nearly $2k to outfit a room with the whole set) you're still getting excellent sound. Superlative performance, ease of use, and multi-room flexibility? Even at $699 it's enough to make us fall in love with the Sonos PLAYBAR.