Sonos Android update adds support for wireless audio streaming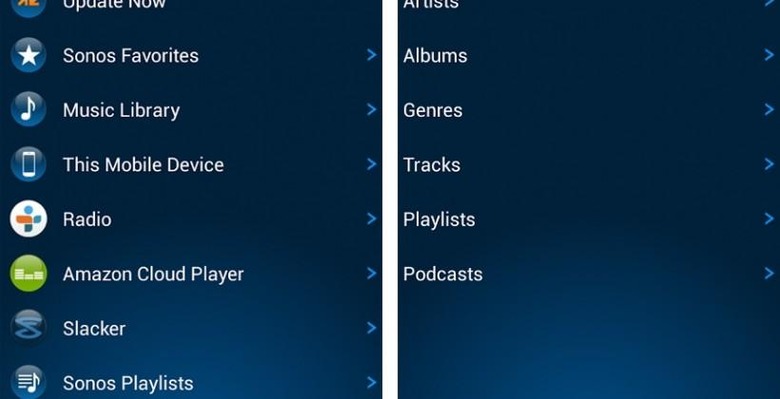 Sonos is one of the go-to companies for wireless streaming options, and Android users can finally get in on the fun, thanks to an update to the Sonos Controller app. The update now enables users to play music and audio stored on their Android phone or tablet anywhere that they have a Sonos wireless speaker or player.
Luckily, the app supports Android 2.1 and higher, so most if not all Android users should be able to use the new app and stream their local music to a Sonos device. All you have to do in order to get the update running is update the app from Google Play, make sure all the devices are on the same WiFi network, and then you'll be able to play your music stored on your Android device.
Once you have the app updated, there will be a new menu called "This Mobile Device." Tapping on that will bring up the expected categories, including Artists, Albums, Genres, Tracks and Playlists, as well as Podcasts. The app isn't completely fleshed out, though. We noticed some issues with podcasts showing up in different categories other than the Podcasts category.
Another caveat is that music downloaded directly from the Google Play Store can't be played through the Sonos app right away. You have to download them from Google Play to your computer, and then transfer them to your Android device's Music folder in order to get them to work with Sonos. This is kind of tedious, but hopefully Sonos can find a way around it sooner or later.
VIA: Android Community
SOURCE: Google Play