Sonoro luxury CD clock-radio available in US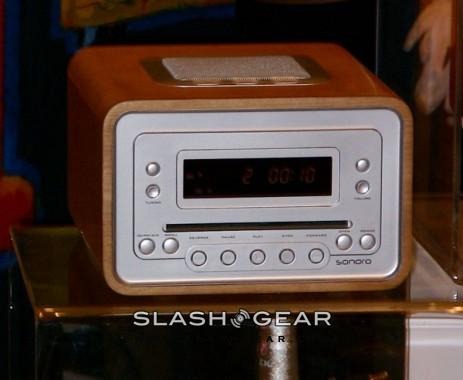 German manufacturer sonoro audio's products will be available soon in the US. We first saw the company's cubo range of CD/MP3/radio units back at CES 2008, where sonoro revealed they were working on internet radio and iPod dock versions of the media player. The cubo will be available exclusively from saks.com priced at a rather large $349.99.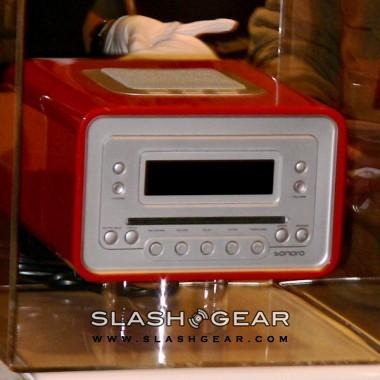 The clock-radio will be available in multiple finishes, including three woods and seven colored lacquers. It includes a remote control and measures 210 x 137 x 230mm. There are also six presets for the AM/FM radio.
Meanwhile the sonoro cubo elements, with internet radio, drops the CD player and replaces it with an internal WiFi aerial and OLED display. A separate rechargeable iPod dock is also available. sonoro are yet to confirm when the cubo elements will be released in the US.
Press Release:sonoro Signs US Distributor, Lapine, Brings Euro-Styled Electronics to Saks.com
Stylish CD / MP3 clock radios available for purchase through luxury retailer's Web site
San Diego, CA – May 2, 2008 – sonoro audio, German manufacturer of distinctive, high-quality audio products, today announced a partnership with Lapine Associates, Inc., a leading distributor of premium electronics and promotional items. Lapine will bring sonoro audio's products to the US market for the first time through Saks Fifth Avenue's Web site.
sonoro's cubo family provides all-in-one audio solutions for playing CDs, MP3 players and radio in a modern curved-corner design that meshes easily with today's contemporary home or office. It comes in three sleek wood and seven-colored lacquer finishes that provide a sophisticated accent to the product. Consumers can buy these products for $349.99 MSRP at Saks Fifth Avenue's Web site, saks.com
"We are thrilled to work with a distinguished distributor like Lapine to make sonoro's cubo family of CD / MP3 clock radios available in the US for the first time," said Marcell Faller, CEO of sonoro audio. "With our European-designed, all-in-one audio solutions, consumers will be able to enjoy music from a variety of sources with devices that blend in with their expertly-designed homes."
"We knew sonoro would be a natural fit among our list of prominent clients and products," said Noah Lapine, president of Lapine Associates, Inc. "We strive to offer our customers the best in quality and style and look forward to our relationship with this innovative company."
For more information regarding sonoro audio and the cubo line, please visit www.sonoro-audio.com .
About sonoro:
sonoro audio GmbH & Co. KG is a designer and engineer of distinctive, high-quality audio products. The company originated the cubo family of products that are distributed exclusively through specialist interior design and home furnishing outlets and audio / video dealerships. sonoro is currently serving Australia, Austria, Belgium, Canada, Croatia, Denmark, Finland, France, Greece, Germany, Iceland, Ireland, Italy, Luxemburg, The Netherlands, Norway, Poland, Portugal, Serbia, Slovenia, South Africa, Spain, Sri Lanka, Sweden, Switzerland, the United Kingdom and the United States, with more countries to be added soon. The company headquarters are located in Cologne, Germany.
About Lapine Associates, Inc.:
Lapine Associates, Inc. was founded in 1962 with the belief that the company's success would depend on the relationships it formed with industry leading manufacturers and customers. They believed those business partners would value the honesty, integrity and commitment to service they brought to their door.
Today, Lapine has grown to become a recognized leader in the retail and premium industries. It is a family-run company with an extended global family of manufacturers, retailers, clients and employees.
By providing hands-on, dedicated and unbeatable marketing, sales and service support, Lapine has built lasting and productive relationships that offer customers the access to success. As sonoro's exclusive sales and distribution partner in the US market, Lapine continues their long history of bringing great brands and exciting new products to their customers with a partner that shares their values and their commitment to success.
About Saks Fifth Avenue:
Saks Fifth Avenue, one of the world's pre-eminent specialty retailers, is renowned for its superlative American and international designer apparel collections, its expertly edited assortment of handbags, shoes, jewelry, cosmetics and gifts, and the first-rate fashion expertise and exemplary client service of its Associates. Today, Saks operates 54 full-line stores in 25 states, three licensed stores in Mexico City, Dubai and Riyadh, 49 Saks Fifth Avenue OFF 5TH stores and saks.com, the company's online store.