Sonnet Tempo Serial ATA ExpressCard - Add eSATA To Your MacBook Pro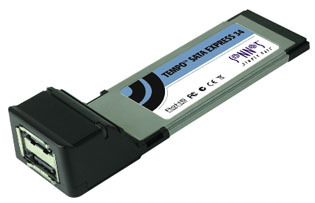 One of my wish list for the new MacBook Pro is a eSATA port. While I can keep wishing, some of you in UK who cant wait for it to come true will be able to add eSATA port to your MacBook Pro.
Sonnet, a Mac add-on manufacturer announced its new product called Tempo Serial ATA ExpressCard. The card will provide two eSATA port and it has built-in 3Gbps SATA controller.
Unfortuntely, the ExpressCard slot in MacBook Pros uses USB 2.0 controller instead of the PCI Express bus. You will be able get data transfer speed up to 480Mbps (USB 2.0 speed). The card supports Mac OS X RAID and priced at £120.
Sonnet add-in to tune UK MacBook Pros into to eSATA [via reghardware]