Sonim Technologies Teams up Land Rover, unveils rugged Mobile Phones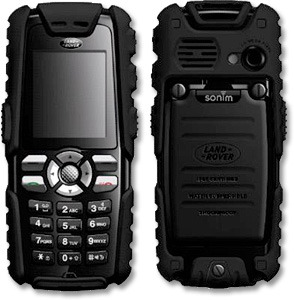 Mobile phone makers are known to partner up with devoted designers for fashionista. Sonim technologies looks to change the trend, focuses in alternate lifestyle audiences by bringing in all-terrain automaker Land Rover, co-branding rugged and eco-friendly mobile phones for outdoor adventurers.
Beneath the macho and recycled XENOY protective case, the Land Rover phones sound a lot like Sonim's XP3: Less on the look, no diamond or easy to break full touch screen panel; Land Rover phones are submersible and weatherproof to withstand salt, fog, humidity, transport and thermal shock and can sustain a 1.6-metre drop to concrete from any angles.
Two co-branded phones, Land Rover S1 and S4 will enter the market by mid-2009, and the third following later in the year.